Zigbee, an open-source smart home communication standard, has made significant development in the previous several years.
Zigbee provides consumers and developers with standardized and tested products with more choice and freedom and the assurance that all of their goods and services will operate together as a unit, making it one of the best picks for home automation devices. 
Choosing the appropriate devices is critical when getting started with home automation. 
However, many people are still unaware of the best Zigbee devices available in the market that can completely transform your complete automation experience.
We've evaluated all of the most reliable smart Zigbee devices (listed below) on the market in several categories and at various price points, along with a variety of features. Here are some of our favorites.
Best Zigbee Smart Home Hubs
The ideal smart home hubs improve the interaction of all of your smart home devices. 
For example, a smart home hub will allow you to link smart lighting, smart security sensors, and smart locks so that they would all operate seamlessly.
For example, when you leave the house, a smart home hub may command your smart lights to switch on/off, your smart locks to engage, and your thermostat to adjust the temperature.
That's just one of the things a good smart home hub can do, but some are better than others. That is why we have analyzed the finest smart home hubs on the market to decide which is the best as per your requirements.
Best overall smart home hub: Samsung SmartThings Hub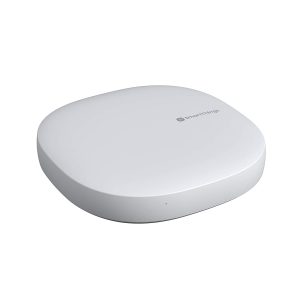 To put the Samsung SmartThings smart hub to the test, we loaded the SmartThings software on an iPhone and connected it to a Wemo Mini Smart Plug and a TP-Link Kasa Smart wifi Bulb.
We tested a variety of scenarios and automation over many days and were not disappointed.
Samsung SmartThings is without a doubt one of the best smart home hubs in terms of simplicity of installation and product compatibility. 
Furthermore, the third-generation Samsung SmartThings hub is one of the finest smart home hubs since it supports both Zigbee and Z-Wave, providing access to a significantly greater number of smart devices than other hubs.
Although utilizing the mobile app to connect your smart home devices and set up scenes and automation takes some practice, your devices will operate effectively once set up, and you will not need to interact with the app as often.
Features:
Size: 5 x 5 x 1.2 inches

Wireless: Wifi, Bluetooth, Zigbee, Z-Wave 

Ports: Ethernet, USB

Battery Backup: No

wi fi makes installing this Samsung hub easier

Allows for more automation than other hubs

Works with Zigbee powered devices and Z-Wave smart devices

Works with Nest
Best Alexa smart home hub: Amazon Echo Show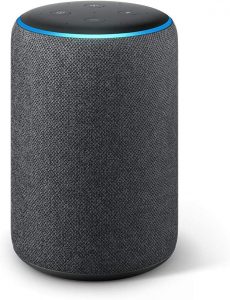 The Amazon Echo Show's technology is a big improvement over the previous iteration, and it has the potential to be a handy focal point for all of your smart home gadgets.
In addition, the Amazon Echo's powerful speakers make it an excellent music-playing option for large, busy spaces, and the widescreen is ideal for keeping up with TV shows or video chatting with friends. 
As a result, we have no reservations about endorsing it.
Bluetooth connectivity with third-party audio works flawlessly, just like it does with every other model. We put it through its paces with Bose surround sound and just plain old music. 
You may also pair the Amazon Echo Plus if your speakers are small or weak. The integration of the two technologies will improve the overall user experience.
Features:
Size: 5.8" x 3.9" x 3.9"

Works With: Zigbee, Nest, Philips Hue, SmartThings, WeMo, Honeywell system

Ports: MicroUSB

Battery Backup: No

Built-in ZigBee smart home hub supports ZigBee light bulbs, locks, sensors, plugs, and in-wall switches.

Excellent audio with bass

Convenient smart-home hub
Best Zigbee Smart Home Lightings
Smart LED lights aren't yet a commodity, but they're getting there. 
Today's bulbs appear to be more compact, brighter, have better color representation, and, for the most part, provide control applications that do more and are easier to set up than ever before.
We tested virtually all of the smart home lighting options on the market and created a list of our favorites.
Smart A19 Bulb: Philips Hue Single Premium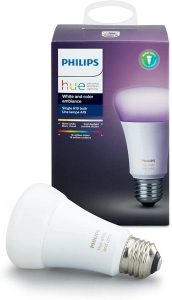 The Philips Hue Smart Dimmer Switch is a battery-powered switch with a mounting plate that allows you to hang it on your wall.
The switch is magnetically connected to the mounting plate and may be removed and used as a remote control.
This Philips smart light bulb is ideal for instantly changing the ambiance and look of your area due to its 16 million color options. 
It is appropriate for ceiling fan lights, pendant lights, side table lamps, and other similar devices around your smart home.
The fact that these smart lights don't require any additional wiring is what we loved best about them. 
They just twist in like a conventional light bulb. A hub attachment tells the bulb what to do, making things incredibly simple.
To turn on and off the lights and dim or brighten them, an app may be necessary. A Hue wireless remote dimmer may also be used to dim them.
Features: 
Size – 3 x 3.5 x 6.5 inches

Material – Cobalt

Voltage -120 volts

Wattage – 10 watts 

Allows voice control

Supports smart control via a smartphone app

Works with Alexa, Google Assistant, and Apple HomeKit system
Smart Light switch: GE ZigBee Smart Lighting Control Switch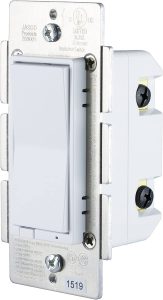 You can transform any house into a smart home with this in-wall smart switch.
This easy-to-install switch offers unrivaled versatility. As a result, you may be able to manage your home's lighting wirelessly.
Converting a whole room to Zigbee might be a cost-effective option, especially if you have a large number of lights.
And, because it replaces your light switch rather than your light bulbs, the GE Zigbee Smart Dimmer In-Wall Smart Lighting Control is an outstanding and reasonably priced smart home gadget.
Features:
Supports dimmable CFL and LED bulbs

Allows energy monitoring

Material – Plastic and metal

Size – 1.75 x 2.2 x 4.1 inches

Circuit type of device – 3-way, 1-way

Plug profile of device – wall mount
In-wall Smart Light Dimmer: Quotra Wireless Smart Dimmer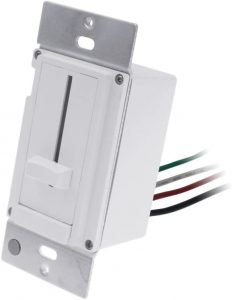 Quotra wireless LED strip lights are among the best Zigbee lighting for your smart home.
Not only can you simply design different rooms in your house, but you can also alter the lighting ambiance from anywhere.
 Quotra Wireless Smart Dimmers also offers some excellent features, including hands-free voice recognition and the option to synchronize the light to your game, song, or film!
Because it supports both RGB color and shades of white ranging from warm to cold, you may use this smart strip for a number of applications, like decorating your cabinet, TV back, kitchen, and bedroom.
In addition, with over 16 million colors and hundreds of different shades of white to select from, you may use the strip to transform your environment totally.
Features: 
Size – 4.13 x 1.77 x 1.61 inches

Circuit type of device – 3 way

Plug profile of device – wall mount

Works with Philips Hue, Google Home Voice Control, and Alexa

It also works with Stringify and IFTTT to link with other smart devices

Compatible with Zigbee hubs, Echo Plus, Philips Hue, and their Android and iOS apps
Best Zigbee Smart Home Plugs
The goal of a smart plug is simple: to make your home's stupid electronics smarter.
Whether you pick wifi, Zigbee or Z-Wave linked smart plug, or a smart power strip; they have endless uses; lamps that aren't compatible with smart bulbs, fans that require a button-push to turn on, and AV equipment that never powers down are just a few examples.
The best smart plugs have a plethora of capabilities, including voice assistant integration with Amazon Alexa, Google Assistant, or Apple HomeKit, as well as smart thermostats and timers. 
However, even the most basic ones automatically connect all of your smart home devices and outdated equipment.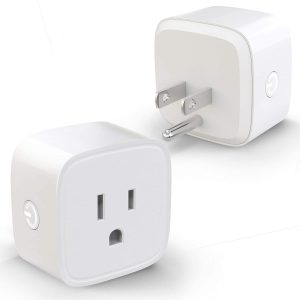 If you use a Zigbee smart home hub, such as SmartThings, you won't have any trouble adding Innr's smart plug to your setup. It truly is that simple.
However, how effectively you integrate this smart plug into your own smart home is dependent on how you've set your Zigbee hub.
Nonetheless, if you're using SmartThings – or even Innr's home automation hub – it's a piece of cake to configure it with both Alexa and Google Assistant.
The plug worked perfectly in our testing. The device showed in SmartThings immediately after installation and did not require any manual configuration.
It's also worth noting that, unlike some smart devices/gadgets that periodically become stuck and need to be removed/rediscovered in their respective hubs, this plug hasn't required a second touch since we installed it.
Features:
Size – 1.89 x 1.89 x 2.05 inches

Plug profile – Plug-in mount

Wireless switch in the device

Works as a Zigbee range extender

Suitable with voice control

Day and week program available via the app
Sylvania Smart+ Zigbee Smart Plug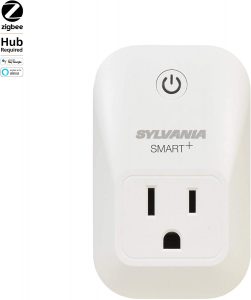 The Sylvania Smart+ range of smart home Zigbee products, including lights, is outstanding, and the wifi plug is no exception.
This ZigBee smart plug supports Samsung SmartThings, Google Assistant, and Amazon Alexa.
Simply put the Sylvania Smart+ smart plug into any outlet to convert it to a linked wall socket. It can supply electricity to equipment requiring 15 amps and 120 volts.
Fortunately, Sylvania also offers a Smart+ Bluetooth connection that is HomeKit compatible. 
So if you only care about SmartThings, you'll be fine. Otherwise, if you want HomeKit features, go with the Bluetooth option.
Features:
Zigbee compatible hub required

On and off capabilities

For indoor use only

15 amps, 120V

Voice control available through compatible hub

Create schedules and automation that can allow you to monitor your devices from anywhere.
Best Zigbee Security Sensors
If smart lights, thermostats, and security cameras are the cornerstones of the smart home, consider smart sensors to be the invisible network that links everything.
Many sensors on the market now are wireless and battery-powered, allowing you to place them wherever you choose. 
We've included the most common smart home sensors in the list so that you can connect and control your smart home devices entirely.
Best Zigbee Motion sensor: Philips Hue Indoor Motion Sensor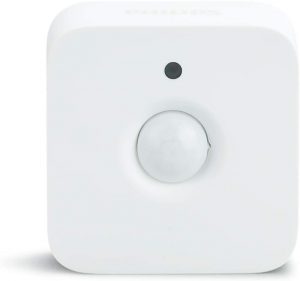 The ability to detect temperature changes in a space astounded our team.
The battery life is also exceptional, lasting more than a year. 
Philips Hue Indoor Motion Sensor is one of the best Zigbee motion sensors for your smart home. 
It's well-made, wireless, and runs on batteries. But, unfortunately, it also has a lux sensor that prevents it from working during the day.
The ability to alter the brightness of the light was another feature that we found useful. You can dim your lights at night to avoid waking you up.
The installation of this home automation gadget is straightforward. You may either mount it to a wall or place it freely on a flat surface using the included screws. 
Because the mount is magnetic, you may tilt the detector for optimal performance.
Features:
Size – 3.15 x 4.33 x 3.94 inches

Plug profile – wall mount

Battery-powered device

Wireless device

Requires Hue Bridge to function

Can control up to 50 smart lights

It comes with a light sensor

Includes smart night light feature
Affordable Zigbee Motion Sensor: Samsung SmartThings Motion Sensor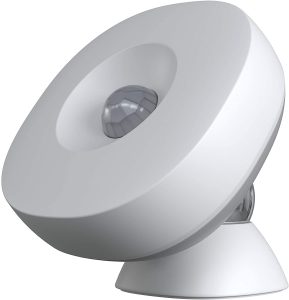 One of the features that distinguish this motion detector is the ball and socket magnet mount.
This allows you to quickly and easily place the sensor at the ideal angle for motion sensors.
This detector is most likely one of the easiest to set up. It comes with a magnetic mount that can be readily connected to almost any magnetic surface. 
You may also hang it on the wall without using any screws. Then, simply remove the sticker from your home automation device base and push it on the wall.
This device, however, cannot be permanently fixed on the wall. As a result, you may need to design a remedy to preserve it intact if the adhesive declines. 
Furthermore, it cannot match with the Philip Hue Motion Sensor in terms of motion-detecting accuracy, overall efficiency, and performance.
Features:
Size – 2.23 x 2.19 x 1.98 inches

Field of view of up to 120 degrees

A detection range of up to 15 feet

Requires a SmartThings Hub to operate

Battery-powered devices
Compact Zigbee Motion Sensor: SYLVANIA E21266 Lightify Motion Sensor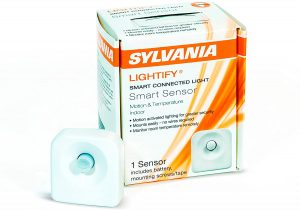 If you're looking for a gadget to help you keep track of what's going on in your home, this motion sensor is an excellent choice.
This is a wireless sensor with motion and temperature sensors built-in.
Because it is battery-powered, you may place the SYLVANIA E21266 Lightify Motion Sensor wherever in your home. 
In addition, this sensor is less costly than the Philips Hue Indoor Motion Sensor.
It may also be used with the Wink Hub. As a consequence, you may set the Wink Hub to turn on the air conditioning whenever the sensor detects an extremely high temperature. 
During testing, we also observed that configuring this device takes a little longer than anticipated.
Furthermore, the instructions are quite brief. Other customers have complained that it might be unreliable at times. Because the detector is not pet-sensitive, lights are activated even when pets pass by.
If you are already down the Zigbee connectivity path for your smart home, Zigbee door locks are very common in terms of connectivity options by the main lock manufacturers and will definitely make a wonderful fit for your house.
A connected lock offers both security and flexibility by allowing you to manage entrance to your home via your phone. It's also a lot easier to set up than you would imagine.
Here's everything you need to know, as well as the best smart locks we've tested so you can keep in touch with family and friends.
Kwikset Obsidian Smart Lock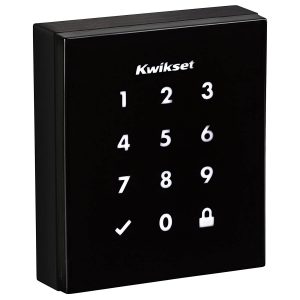 Kwikset has created a stylish alternative to the standard lock.
The Obsidian Smart Lock is a beautiful and reasonably priced alternative for people who regularly forget their keys.
The unique SecureScreen feature, which prevents smeared fingerprints from disclosing your pin information, is also a great addition.
Because of its thirty configurable user codes, the Kwikset is a fantastic tool for multi-occupancy houses. 
The lock's only significant fault is its short battery life, which is compounded by a difficult-to-remove battery casing.
The lock is capable of communicating through Zigbee or Z-Wave, as well as interacting with smart home hubs. 
However, because the lock lacks a dedicated mobile app, you are limited in what you can do, such as remotely changing passcodes from your phone.
Features:
Lock Type: Deadbolt Replacement

Finish Options: Black and Nickel

Connectivity Options: Z-Wave Plus and Zigbee

Alexa Support: Yes, with an add-on hub

iOS App: No

Android App: No
Yale Real Living Assure SL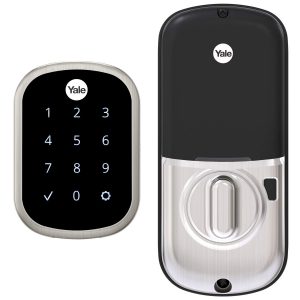 The Yale Assure SL is a great option for anybody looking for a smart keyless lock.
It has an attractive exterior and is compatible with the majority of the major smart home systems. However, if you want to control the lock remotely, you'll need to buy an extra module.
The Assure SL is a well-designed, aesthetically pleasing lock that is easy to install. 
There is, however, no manual key option: it is a keycode, and if the battery dies, you may temporarily recharge it by pressing two contacts beneath the keyboard with a 9v battery.
We wished it had the same level of security as the Kwikset Obsidian (which requires you to add additional input numbers before inserting your code so that others cannot guess it).
Features:
Lock Type: Deadbolt

Smart Home Compatibility: Alexa, Google Home, Homekit, SmartThings Connectivity: Bluetooth, Zigbee, Z-Wave Plus 

Number Pad: Yes 

Alarm: No 

Codes: 250 

App: Yes
Schlage Connect Smart Deadbolt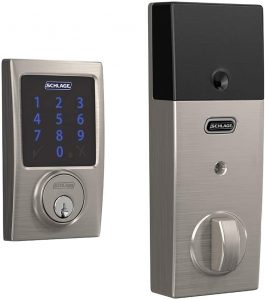 Schlage Connect is offered in two models: Zigbee and Z-Wave Plus, and it works in tandem with other connected systems to maximize performance.
Installation is simple and quick, using only a Phillips screwdriver and taking between 15 and 25 minutes (then an additional 20-30 minutes to pair the device with your smart home hub.)
A loud alarm is a good deterrent if someone tries to tamper with your lock. The Schlage Encode is our top pick for the best smart lock with an alarm since it emits an audible siren in the case of a break-in.
Overall, most consumers have praised Schlage Connect for its dependability, connection, and simplicity of installation. This, in our perspective, is an overall great product.
Features:
Lock Type: Deadbolt Replacement

Finish Options: Black, Brass, Bronze, Chrome, and Nickel

Connectivity Options: Z-Wave Plus and Zigbee

Google Assistant: Yes, with an add-on hub

Alexa Support: Yes, with an add-on hub

iOS App: No

Android App: No
What Are The Benefits Of The Best Zigbee Devices?
Mesh network structure — if one product fails, the others can continue to interact normally.

It utilizes just 50 millijoules (0.05 Watt-seconds) of electricity per data transmission.

Because it is an open-source protocol, it has a lower cost of products.

Can sustain a huge network of up to 65,000 nodes in a single network

There are many Zigbee smart devices to pick from – 2,500 goods that have been certified and 300 million gadgets that have been deployed.

Unlike RF and Bluetooth, it allows for faster data transfer with less inference.

Because the Zigbee devices are operated via a local network, there is no need for an internet connection.
What Are The Drawbacks Of Zigbee Devices?
Protocol fragmentation — many versions are available; each manufacturer implements Zigbee in its products in somewhat different ways.

When compared to Z-wave, the data transfer rate is lower, but this should not be an issue for the ordinary household.

Not as safe as wifi 

Due to its small range and low coverage, it may not be ideal for outdoor wireless communication.
Best Zigbee Devices - FAQs
What is Zigbee?
Ans. Zigbee is a personal-area network protocol based on the IEEE's 802.15.4 standard. All you need to know is that Zigbee is a protocol that has been around for over a decade.
It is commonly regarded as an alternative to wifi and Bluetooth for some applications, such as low-powered devices that don't require a lot of bandwidth, such as your smart home sensors.
What is the Zigbee range?
Ans. A Zigbee mesh network's wireless frequencies have a maximum indoor range of 250–325 feet. 1 Zigbee frequency can reach over 980 feet without impediments. Using a signal repeater, you may extend the range and intensity of the signal.
Most smart home networks will only require a few dozen gadgets, and even the largest homes will most likely not have more than 1,000.
What are some of the most important applications of Zigbee-powered smart devices?
Ans. Zigbee is mostly utilized in remote monitoring, control, and sensor network applications.
Wireless light switches, home energy monitors, traffic control systems, and other consumer and industrial devices that need short-range, low-rate wireless data transfer are just a few examples.
What is mesh networking?
Ans. A mesh network system is a network connection distributed among wireless nodes that can interact with one another and share a network connection over a vast region.
Consider nodes to be little transmitters that work in quite the same manner as a wireless router. 
Because Zigbee can provide mesh networking, it can increase data transmission range and stability.
Does Zigbee support Mesh?
Ans. A mesh network is formed when a network connection extends out among wireless nodes, allowing them to interact and share a connection across a large region.
Nodes are tiny transmitters that work in the same way as a wireless router works. Zigbee can accommodate up to 65,000 nodes on a single network.
Can Zigbee lighting controls be used with amazon echo plus/google home?
Ans. The Amazon Echo Plus has a smart home hub that connects and controls Zigbee devices. To engage with the Amazon Alexa / Google Home services, ZigBee smart lighting controllers must be linked to a separate compatible hub.
Therefore, it is important to evaluate supported hubs with each service, as they may have varying support.
To control my Zigbee device from my phone, do I need to download an app?
Ans. This is determined by the Zigbee Hub you're using. To operate our Zigbee devices, you will need a Zigbee hub/gateway in addition to your phone.
If you want to know which app to download for your specific hub, contact the vendor. For additional information on Zigbee compatibility, please visit our Zigbee website.
Is ZigBee a Z-Wave competitor?
Ans. In the field of home automation, ZigBee competes with Z-Wave. Z-Wave has been faster than ZigBee in bringing its protocol stack to market since it is only focused on the home control area.
While Z-Wave is a single-source technology, ZigBee is a multi-source technology that adheres to an IEEE standard. 
Additionally, ZigBee has faster data speeds and can function in both the 2.4 GHz and sub-GHz unlicensed bands.
Do I require a Zigbee hub or gateway in order to use my Zigbee devices?
Ans. You don't need a separate hub or gateway if your device includes a built-in Zigbee hub, such as the Echo Plus. Otherwise, your Zigbee devices must be linked to a hub or gateway. 
Is wifi (IEEE 802.11b/g) a competitor to ZigBee?
Ans. The application requirements for ZigBee and wifi are obviously different. 
The cost and power consumption patterns of wifi are incompatible with wireless control requirements, but ZigBee's bandwidth is simply too limited to transfer massive data flows.