Sirens will always be a great part of the home security system. They help us inform the presence of intruders. 
Several home automation technologies make alarm sirens or alarm devices even better. One of the technologies which turn an alarm siren into a smart siren is Z-Wave technology.
 In this article, we'll present to you our top picks for the best Z-Wave sirens available.
We'll feature comparisons of the features of different Z-Wave sirens for you to consider and check. 
This way, it would be easier and clearer for you if the siren you are looking for has the features you need for your home.
Best Z-Wave Sirens in 2021
1. GoControl Z-Wave Siren and Strobe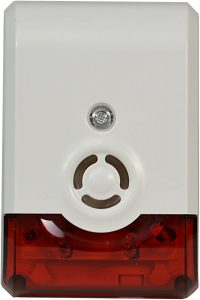 The top pick for the best Z-Wave sirens is GoControl Z-Wave Siren and Strobe.
This smart siren is from GoControl, a smart home device portfolio by Nortek Security & Control. It features a two-way alarm system with its sounder (siren) and the strobe.
If you have an existing Z-Wave-based home automation system at home, this will be a good additional fit for a security alarm device. 
You can connect this to your Z-Wave controller to give you remote control of this smart device. It features a very loud sound alert tone plus a light strobe that flashes brightly.
 This smart siren is designed for wall mounting and features an integrated battery as a backup when AC power is out. 
Although, it has an AC plug-in that is UL-approved. The sounder is 105 dB at the 1m range. And, the 4 LED strobe has 360 Lumen at 100 ft line of sight range.
When connected to a smart hub, you can control the length of the sound or strobe response and the response configuration if it's siren only, strobe, or both siren and strobe warnings.
Another good thing about GoControl smart siren is its tamper-resistant design. Once a tamper attempt is detected, like removing the sensor's cover, it will send an alert, and the sensor's red LED light will turn on once the cover is removed.
Also, it works as a repeater in your Z-Wave home automation network within 130 feet line of sight from a Z-Wave repeater like the Z-Wave controller.
 It is also compatible with other certified Z-Wave smart devices, even those manufactured by other brands. All of these features make this Z-Wave siren a top choice as a smart siren for your smart home.
GoControl Siren Features We Like:
The alarm is greatly audible throughout the house, with the 105db

High range hearing with 360-lumen strobes

Extended power cord for greater comfort

The cord automatically charges the internal battery
2. Aeotec Siren 6, Z-Wave Plus S2 Safety Speaker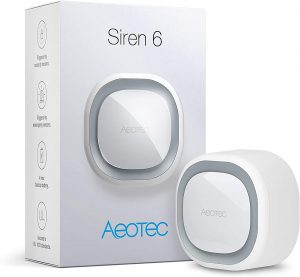 The Aeotec Siren 6 is the best customizable indoor in 2021.
This is an indoor siren created with Z-Wave Plus S2, which can be smart for your home automation.
Once this siren is connected to Z-Wave, you can easily control it via the SmartThings app to accomplish all the automation activities you want.
The Aeotec Siren 6 enables you to shield your home through a 1,000-lumen strobe, 110 dB alarm, or both. It features six pre-loaded alarm security sounds, eight safety sounds, 30 distinct tones, and a 4-hour backup battery.
Aeotec Siren 6 Features We Like:
110dB speaker along with 1,000 lumens visual light alert strobe

It is used as a siren for CO sensors, smoker sensors, and security alarms through Z-Wave and Samsung SmartThings

Pre-loaded six security sounds, eight safety sounds, and 30 tonnes in total.

A 4-hour backup battery 
3. Aeotec Z-Wave Plus Siren Gen5 by Aeon Labs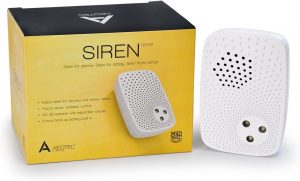 Next in line, the Aeotec by Aeon Labs Z-Wave Siren features a powerful sound alert with up to 105 dB speaker. 
This powerful sounder can alert any danger and threats at home. This smart siren doesn't require wire installation.
You just have to choose where you want to put this in your home and plug it into an outlet. That's it; it's pretty easy to install. It also has 3 LEDs to give you visual alerts.
This Aeon Labs siren also features a constantly charring backup battery. So, you are assured that this Z-Wave siren and strobe will still function in case of a power outage. It is compatible with plenty of other Z-Wave devices, especially Z-Wave controllers. 
You can also customize your sound alert with five alert tones for you to use in different situations. 
This way, through the tone alerts, you will know what kind of threat is in. Set different techniques for other circumstances like break-ins, fire, and other emergencies. This makes you better prepare for the possible danger.
Aeotec Siren Gen5 Features We Like:
Powerful siren of 105dB with 210-lumen strobes

Tamper-resistant and power out protection

In-built, self-recharging, 430 mAh backup battery

Z-Wave Plus certified
4. Everspring SE812-US Z-Wave Indoor Siren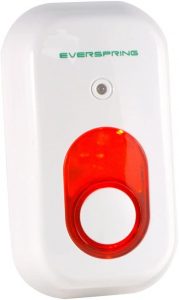 An indoor siren from Everspring, the SE812 Z-Wave Siren also features a two-way alarm system with its sounder and red LED light.
We think that a good siren should always have these two ways of letting us know of possible danger. 
This gives you a better chance of knowing when security threats or risks are putting lives and property at risk. It would help if you always considered at least having these two features in your smart siren.
This Z-Wave smart siren is compatible with other Z-Wave devices, even with other brands. 
This is how we expect it to be for all Z-Wave certified devices. Another good feature of this smart siren is its tamper-proof protection capability. This helps you inform of any potential threats or dangers around your home.
Everspring Indoor Siren Features We Like:
Reliable Z-Wave siren alarm

LED light indicator for low battery alerts and visual alarm

Tamper protection

Adjustable volume level

Easy installation

 
5. FortrezZ SSA2USR Siren Strobe Alarm Wireless Z-wave Red Lens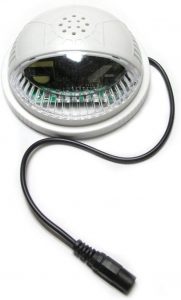 This Z-Wave Siren and Strobe from FortrezZ provide you the sound and visual alerts for your home security.

You can connect this device to any of your Z-Wave devices, especially your smart hub. With this, the connected devices can trigger commands for this siren.
The sound alert is a 110 dB (@ 1m) audible sound paired with super bright LEDs for the visual signals. You can have control over modes of using these 2-alert systems.
This Z-Wave indoor siren has three modes you can choose to use – the siren only, the Strobe only, and both the Siren and Strobe full alert feature. Although, note that this is for indoor use only.
You can either plug it in the outlet or use a 9V battery to power this smart siren. 
The siren can also be triggered when the power wire is interrupted with its tamper-resistant feature. This is usually installed on walls. Aside from being a siren for your home automation system, it can also act as a repeater for your home Z-Wave network.
You can extend the distance of your other Z-Wave devices. The full line of sight is 100 feet with a diameter of 112mm and a height of 45mm. 
This weighs 0.5 lbs, so it is pretty small and cool. The operating temperature of the siren is at -10 degrees with a weight of 0.5 kg.
FortrezZ Siren Features We Like:
Designed for indoor use with a Z-Wave Home Automation network

Out Spreads the range of existing Z-Wave devices in the web network

Tamper-resistant

9V battery backup

SSA is completely programmable with Z-wave smart controllers 

Compatible with HomeSeer systems and Vera

Wireless Z-Wave RF Communication
6. Dome Wireless Z-Wave Plus Siren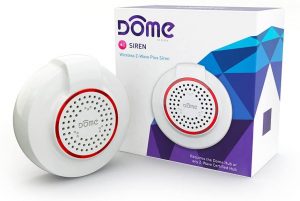 Another good candidate for your home automation siren is the Dome Home Automation DMSo1 Siren.
This is a product from Dome Home Automation. This smart siren is definitely wireless because it fully operates using batteries.
It has 2 CR123A batteries included in the package. This Z-Wave siren has a long range of up to 105 feet, allowing for a longer range of where you set this up from your Z-Wave hub. 
Being wireless and with a longer range provides flexibility in terms of the distance you put this up. It is also good since you can place this anywhere or mount it on a wall.
Aside from the audible notifications, it also has a built-in flashing LED, just like the other sirens featured here. The audio alarm is up to 105 dB. 
This device is officially integrated with Wink Smart Hub. This device needs or requires a Z-Wave certified Smart hub.
Aside from Wink, these are the other hubs that this siren is tested to work with: SmartThings, Vera, HomeSeer, Nexia, Piper, URC, Harmony. 
They are not supported by Wink, DSC, ADT Pulse, 2Gig, Napco, Interlogix, Honeywell. Please note that Dome is not associated with these brands. Lastly, it has a 1-year limited warranty.
The Best Z-Wave Sirens Buying Guide
A Z-Wave siren is a good addition to fortify your home security system. These smart sirens can give your home automation system the alarm functions you need, especially for security reasons. 
We hope this comprehensive guide could give you more information about the best Z-Wave sirens.
What are Z-Wave Sirens?
Z-Wave Sirens are alarm devices that use Z-Wave communication protocol to communicate with other smart devices like Z-Wave hubs. This allows other devices to connect with these Z-Wave sirens to trigger an alarm.
This will also enable you to control the siren through a mobile application connected to the smart hub. 
The common features of these Z-Wave alarm devices are sound alarms and strobes. These features alert you of security threats like having intruders at home. 
These smart alarm devices are particularly helpful because it gives you ease and security knowing that your home automation system will notify you as soon as threats are detected. 
This way, you will be able to protect anyone at home from potential danger and effectively disrupt the intruders.
With Z-Wave technology, you can easily control your smart sirens from your mobile phone. You can turn them on or off remotely. 
The beauty of using Z-Wave sirens is that you can connect them to plenty of other Z-Wave devices, giving you the ability to build a complete smart home system.
How to Choose the Best Z-Wave Sirens?
The good thing about having a lot of choices is that you will have plenty of options. 
With plenty of smart sirens supporting Z-Wave technology, how will you choose what's the best one for you? We take the factors you can consider in selecting the best Z-Wave sirens for your smart home.
Compatibility
If you already have a smart home system built around Z-Wave technology, your smart hub should be compatible with your Z-Wave siren or the other way around. 
This should be fine as long as your smart siren will support or is supported by your smart hub.
After all, the control of your smart devices, including the smart siren, will be dependent on your smart hub and its PC and mobile applications.
Durability
Your smart siren is an integral part of your home security, so the device must be durable. 
This means it can stand the test of time and will live a longer life. This might not be a huge problem for indoor sirens since there might not be many factors that could break the device.
However, falling from where it is installed or placed could potentially break or damage the siren. 
Therefore, you should consider the type of material the device is made up of. You can also check the warranty for the device and support if you have device problems.
Cost
The price is always an important factor for any buyer. Though, it may not be the case for really cheap products. 
But for smart devices, this is also a good factor to consider. You can look for products which provide the features you really need and then check on the price if the price is within budget, then good.
Although, the smart sirens are in the mid-range priced products compared to other smart devices. So, it will all come down to the features you need for the right price.
Product Reviews
Reading the reviews of the product can give you useful insights into whether that product suits your needs. Therefore, it will always be helpful to you if you read the reviews of the best Z-Wave sirens featured here.
There are links to the products above so you can check them out. By reading reviews, you will learn some users' pain points and the things they had experienced from using the product.
Maintenance & Support
When choosing a Z-Wave siren, also consider if there is support for the product you are buying. 
When a problem arises, the best person you can ask is the support team from the manufacturer or seller. So, you should also check if you can get the contact number of the support for the product.
Besides support, you should also check whether maintenance for the product is needed or how often you should check your product for any defect. 
This ensures you will enjoy using the product for the longest time possible.
 The Features of a Good Z-Wave Siren
First things first, a good siren should give you the alarm signal when there's a threat.
 It should effectively and ultimately inform you or grab the attention of people near you or even disrupt and prevent the intruder's bad intention.
Thus, the main feature you should consider is if the siren can stand up to its main purpose: to alarm you of threats.
Sound Alarm Level
The level of sound that a siren can make will be helpful in houses with huge spaces. 
The louder the siren is, the better it is indoors with plenty of space.  Audible alerts are the most important and the main feature of a siren. A good siren should be able to produce a good and loud audible signal.
Wherever you are in your house, when your siren has a good level of an audible alarm, you can hear whenever an alarm is triggered. 
The good thing about sound alerts is that you need to see the device because you can listen to the sound from anywhere you are in your house.
Thus, you should consider how big your house is and if the level of the sound alarm of a siren could suffice with the space of your home. 
Strobe Light Feature
The strobe light feature of a siren is of equal importance to the siren's audible alerts. It gives you an additional way of getting alerts, especially whenever there are obstacles with hearing alerts. 
When someone sees the light flashes, it gives you a sense that you need to take care of things.
Just imagine, if you are on your earphone and threatening your security, audio alerts might not be noticed, but if you can see the light flashing from your siren, it's really helpful. 
This is also important to those having hearing disorders, and light flashes are very helpful and important to consider for a siren to have.
Power Options
If you have several options to power your siren, the better it would be for you. Most of the sirens support two ways of power source, from an outlet and batteries. 
Each of these power sources can supplement each other. Being able to connect your smart siren to an outlet gives you the ease that your siren is always on.
And if there is a blackout, then the battery can still power your siren.
Some sirens only support batteries and are completely wireless. Although the battery can keep the siren powered for a couple of years, it still depends on how often the alarm goes off. 
The more alarm would mean the faster the battery power runs out.
This is a little bit of a disadvantage over putting the siren anywhere without worrying about an outlet. 
This is because you don't know when your battery is already incapable of powering your siren. A battery level indicator could be helpful in this case, so check for it if you want a battery-powered siren.
Final Thoughts About the Best Z-Wave Sirens
Z-Wave alarm devices are a good addition to your smart home, especially if you already have a Z-Wave-based automation system. 
If you have a Z-Wave smart hub and other devices, it makes perfect sense to add any of these best Z-Wave sirens. This will come in as an ideal fit to add security to your home.
We know it won't be easy to choose which is the best Z-Wave alarm device for your home. 
But it would be easier if you know the capabilities or features you are looking for. With this in mind, the choice would then be which one offers the features you need.
This is why we came up with this narrowed list of the best Z-Wave sirens. And from this list of the best Z-Wave sirens, we hope to help you find the best one for your home.