We cannot deny that choosing and buying the best Z-Wave Sprinkler controller is complex and daunting. You often find yourself overwhelmed by a bunch of questions and a lot of dilemmas.
Our team of experts on experimenting and testing these products has been through the same. 
The time spent researching and extracting output to bring the best for our readers has been pretty engulfing yet a lot of fun.
All of what we have manoeuvred is to bring you the list of best Z-Wave sprinkler controllers in 2021 to make your life convenient and carefree.
Of course, there are many other helpful and detailed articles reviewing many products available in the market currently. Still, we believe this z-wave sprinkler list will fulfil your demands and answer all the questions you have in a much efficient and clearer manner than the others.
The Complete List of Z-Wave Sprinkler Controllers
Here's an entire list of the best Z-Wave sprinklers currently in the market:
Rachio 3 Smart Sprinkler Controller
The model our team tested, features control over eight zones with a supplementary model that provisions up to twice that. The Rachio app has been reported to have a busy interface. Still, it is quite simple to access.
Users can set a custom schedule by uploading pictures and entering information about certain characteristics like sunlight and soil. 
Based on the data entered by the user, the Rachio app can automatically figure the schedule.
When you allow the Rachio 3 to customize the watering schedule, you select the Flexible Daily schedule option. 
This particular option employs public weather data to govern soil moisture based on the details you previously entered.
Additional Features:
Features Weather Intelligence which allows the capability to automatically skip a session if there is an indication of rain or excessive wind

Smart Cycle which splits watering duration into precise ones and frequent cycles to avoid a runoff

Rachio 3 can be synced with a personal weather station, such as Netatmo, for more accurate results

Efficient integration with Amazon Alexa, Google Assistant, Nest, Apple HomeKit, and Samsung SmartThings
Features a host of IFTTT methods to customize the Sprinkler even better
The Rachio 3 is slightly above the edge regarding pricing, but this smart irrigation controller still offers efficient features while being simple enough to use. Serious gardening hobbyists will love this device for its modified smart scheduling and robust automation attributes.
Netro Sprite Smart Sprinkler Controller
The Netro Sprite Smart Sprinkler Controller doesn't need you to exhaust one of the included six or twelve stations, i.e., control zones devoted to a master valve. 
Exhausting one of your stations for the master valve will leave you with one less station to use for watering. We liked the inclusion of an additional station for the same purpose.
The Netro Sprite installation process is quite easy yet intuitive. The app guides you through most of the procedure, and both iOS and Android apps work impeccably over WiFi as well as via remote access.
Essential Features:
Gathers local weather data from sources like The Weather Channel, NOAA, and Weather Underground

Enquires details of the lawn such as  plant type, soil type, amount of sun, and shade as you go through the app setup. 4

The combined data of the yard and local weather creates a custom schedule automatically, depending on the weather forecast
While the Netro Sprite is one of the best models by far, the indoor-only installation might still be a major downside for most. 
If you have the control box outside, the wiring will need to be moved from the previous controller to a different location inside.
Also, the control owned by the app might be a crunch for the less tech-savvy or the obscure maintenance person. Still, the app is so pleasing to use that our experts weren't that bothered by this.
Orbit B-hyve WiFi Sprinkler Timer
The B-hyve WiFi sprinkler is one of the most talked-about devices of 2021, as it is Orbit's initial project into the smart sprinkler industry. This one is super affordable but with a bulky industrialized design. It features a support system for six or twelve zones, making our running choice for the best Z-Wave Sprinkler controller  this year.
The outdoor-friendly chassis is the main highlight of the B-hyve's design. It comes with a keyed lock to keep the LCD control panel all covered.
 It might feel comparatively low tech than the other models tested in this list, but the fact that it can be installed without any app makes this a user-friendly device for the new users.
The B-have controller is very simple to install. Unlike the Rachio 3, which uses spring clips for connecting, this one uses recessed screws. 
Once you are all set up, you can schedule the unit through an LCD panel or even download the B-have app for better functionality, such as pairing it with your WiFi.
Key Features
Smart watering algorithm refers to the data you entered regarding the type of plants, soil, the amount of sunlight, etc.

Better algorithms after entering the zip code based on the area

Units can be scheduled after set up via the LCD panel or the app

Features a support system for six or twelve zones
Aeon Matrix Yardian Indoor/Outdoor Smart Sprinkler Controller
Our team experienced some glitches with the Android app, yet once we were done with the setup, it connected quickly and started working efficiently.
The unique and also random feature of the Matrix Yardian is the motion-sensor security camera. 
The camera offers free live streaming video along with night vision and free 24 hours of cloud storage. It is advertised on the package, but there is a minimal reference to it in the app. We did some investigating to set it up and running.
After further research, we found some essential information on the website in which they suggested setting the motion detector to minimal sensitivity as the unit is sensitive to light. 
So even the car headlights or flipping a switch might trigger the motion detector and start sending you an alert.
Significant Features
Built-in animal repellent

Motion is detected wherever the controller is directed

In case of trouble with the local wildlife, the sensor could be used to dissuade creatures from feeding on your bush

Features a security camera with night vision along with free 24 hours of cloud storage
GoControl WI15VZ-1 Smart Irrigation Controller
Let's start our list with the WI15VZ-1 Smart Irrigation Controller from GoControl. 
If you want smart irrigation, then this Z-Wave Sprinkler is worth checking. Once connected to a z-wave hub, you can set a schedule for automatically running the irrigation system. No more worries, this smart Sprinkler does it for you.
Aside from that, what's even great about this is that you can modify its watering schedules. 
The Z-Wave hub can use local weather conditions, rain and moisture sensors to optimize programs and the amount of watering. This device can support 15 residential irrigation valves. It can even detect faults on valves which it can shut off.
Main Features:
Supports 15 residential irrigation valves

Simple push-down terminals for valve connections

Includes valve-fault detection

Supports traditional optional 3rd party devices, including Master valve /pump relays, Rain sensors, Moisture sensors

Designed to fit into most existing or new exterior-grade sprinkler timer cabinets or directly on an interior wall
The Z-Wave Sprinkler Controller Guide
A Z-Wave sprinkler controller is a nice improvement to better water your plants in the garden or on your lawn. 
These smart sprinklers can provide your smart home with an efficient way to water plants. Not only that, it will help you save time, energy, and water at the same time. 
We hope that this comprehensive guide can provide you with additional information about Z-Wave sprinklers.
What's a Z-Wave Sprinkler controller?
A Z-Wave sprinkler controller is like a standard sprinkler but made smarter using Z-Wave technology. In short, a Z-Wave sprinkler is a smart sprinkler. 
With Z-Wave, these sprinklers can provide you smart features like you can schedule when it waters the plants. 
Or, you can even use a sensor to talk or communicate with a sprinkler if it's rainy or hot, so your smart Sprinkler can fulfill without your intervention.
The Benefits of Z-Wave Sprinklers
Smart sprinklers such as this which uses Z-Wave technology can provide great benefits for you and your plants. Here's why you should consider having one of these smart sprinklers.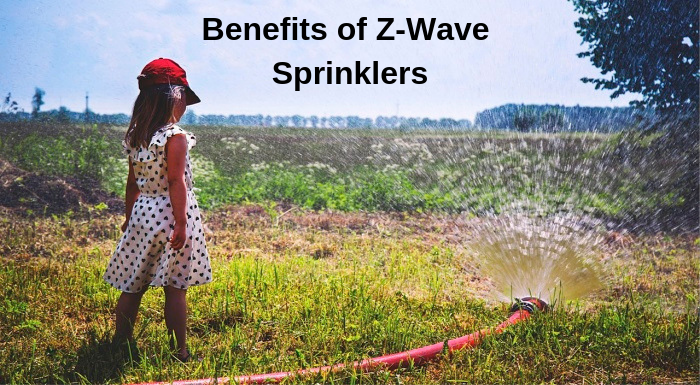 Ease & Convenience
The main benefit of using these smart sprinklers is ease and convenience for you. 
You can use these sprinklers easier than before with their smart features. You can schedule when it waters the plant. 
And more, let the smart hub control its watering cycle and amount with the use of local weather reports and data from rain and moisture sensors. 
Scheduling & Efficiency
Scheduling the watering time assures you that even if you become busy, the Sprinkler will still do its function. This gives you peace of mind knowing that your plants are still taken good care of. 
Since you can use the data from rain and moisture sensors, it is efficient since it has automatic control over water plants or how much water is needed. This makes it very efficient in terms of energy and water usage.
Save Water, Energy & Money
With the functionality of optimizing when to water and the amount of water usage, you can save energy and water. 
In effect, you can then save money from your energy and water bills. All of this is achieved because of an automated sprinkling and irrigation system.
What are the key features of a Z-Wave Sprinkler?
These are the key features you should look for in a good Z-Wave sprinkler.
Compatible & Number of Other Z-Wave Devices It Can Communicate
As expected, a smart sprinkler that uses Z-Wave should be able to communicate with a Z-Wave hub. 
Make sure that it is compatible with the Z-Wave hub. Aside from that, it is also important to know if it can communicate with other Z-Wave devices.
Schedule & Customize Amount of Water to Sprinkle
The best thing about smart sprinklers is their ability to function within a set schedule automatically. 
Say, for example, it will water the plants every 7 in the morning. This provides you with the best benefit of using this smart Sprinkler.
Secondly, the most efficient way to water plants is to know when to water them and how much water to sprinkle. 
This is the best scenario in which the sprinkling system knows the right amount of water to sprinkle and water the plants based on climate and weather. This also provides the most efficient use of water and energy.
The number of irrigation valves it supports
It is also important to consider how many irrigation valves it supports. This is important concerning the area of the garden or the lawn you have. With this, you can evaluate if it can control and manage to water all your plants in the park.
A Z-Wave sprinkler is a nice addition to your smart home. Especially if you already have a Z-Wave home automation network and an existing standard sprinkler you want to improve. 
Then it is perfect for adding any of these Z-Wave sprinklers. This will provide you with good benefits in terms of time, money, and energy. It will truly lessen your worries and work with watering your plants. 
It is not easy to choose which Z-Wave sprinkler is the best for your home. But if you consider all of the features you need, you'll be able to select the one which fits your needs. 
With this, we hope that this list of Z-Wave sprinklers and this guide will help you find a good smart sprinkler for your garden.