Z-Wave is one of the leading communication protocols used in smart home devices today. 
There are plenty of smart devices which are built to support this technology. And, one of these devices using Z-Wave is the smart outdoor motion sensor or motion detector. 
The same will be the focus of this article. With that, we'll feature the best Z-Wave outdoor motion sensors currently available.
Aside from the list, we also have a guide about motion sensors. Most significantly, we have a buyer's focus on considering getting an outdoor motion sensor that supports Z-Wave.
The Best Z-Wave Outdoor Motion Sensors in 2021
Outdoor motion sensors or detectors are an essential upgrade in securing our homes. 
Especially if these motion sensors are smart enough to notify you of any movements outside your home, this can be a great early warning device to get you ahead of things.
Unfortunately, there are still a few Z-Wave certified outdoor motion sensors out in the market. 
So, for this, we have no choice but to include the only available Z-Wave outdoor motion sensor. However, there is an excellent possibility that the list of available Z-Wave motion detectors will grow in the near time.
So, without much ado, here's our list of the best outdoor motion sensors which use Z-Wave technology. Keep for updates, and we'll update this as soon as newcomers are available.
Top 3 Z-Wave Outdoors Motion Sensors
Ultimate Winner: Aeotec 6-in-1 Multi-Sensor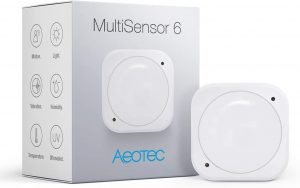 Motion, Temperature, Light, UV, Humidity, Vibrations

Indoor & Outdoor IP20

1x CR123A long battery life for up to 2 years

AC Power

Tamper-resistant

Up to 150m in USB mode

Repeater/Extender in USB mode
Aeotec manufactures a lot of efficient Z-Wave devices which a wide range of flood sensors, strips, multisensors, power plugs, water main remote controllers, delays, dimmers, automatic garage door opener, valve controllers, touch panels, sirens, energy meters, remotes, doorbells, and many more.
The Aeotec 6-in-1 Multisensor is the only one of its kind in the market in 2021, which embodies substantial price with the motion, light, vibration, temperature, UV, humidity, and vibration sensors collectively segmented in a tiny cube. 
All these advanced attributes have not conceded battery life. We have tested proficiently the Aeotec Multisensor 6 for over a significant period to be100% entirely sure for bringing the best to our users.
Moreover, you can also run it on AC power by using the USB cable included in the box, but you will have to provide a power adaptor. 
In AC power mode, this device will direct capacities to the Z-Wave controller in real-time and function as a Z-Wave network repeater/extender.
Top Pick: Aeotec TriSensor 3-in-1 Multisensor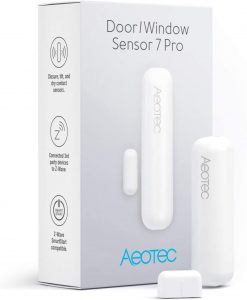 Temperature, Motion, Light

OTA, i.e., Over the Air firmware upgrade

Ability to change the action LED color

Indoor only

1x CR123A long battery life for up to 3 years

Up to 100 m range outdoors, 40 m indoors
If you don't require the Aeotec 6-in-1 Multisensor but would want to prefer the Aeon brand, this one is the appropriate option. 
The new Aeotec TriSensor 3-in-1 Multisensor hits our list of best Z-Wave outdoor sensors. This can be installed in four different ways: for flush false ceiling installation in the Aeotec Recessor, beam, on a shelf, or in the corner.
Apart from its stylish and modish design, this device's motion sensor has a very efficient range of up to 7.5 meters. 
The light tilt sensor has a range of 0 to 30,000 Lux and can be used to turn on/dim/off lights automatically in your home. So, efficient use is to light up the lamps after sunset and dim them while the evening sets.
The TriSensor Multi Sensor is pre-installed with a highly efficient CR123A battery that is appraised for three years of flawless usage. 
To connect the Aeotec TriSensor to the Z-Wave, you have to pull the mylar off from the battery, which is included, and click on the 'action' button to set it to inclusion mode.
This highly advanced device supports the reset, exclusion, and association modes for extreme convenience. There are no inviolable switches, but the sensor does support Z-Wave S2 security, which is not allowed in Multisensor 6.
Configured to allow it to act as a motion sensor by default and can be disabled if required

Accurate temperature sensor

Lux Sensor is much more accurate than Multisensor 6

Simple to comprehend parameter settings such as offset sensors to upsurge accuracy, LED color configurable, etc.

Threshold settings send reports automatically and quickly

Compact size just as Multisensor 6

It fits in the same Recessor that is used in Multisensor 6

 

It does not support USB connection like Multisensor 6 and also needs CR123A batteries

It needs a custom device handler on SmartThings
It does not support USB connection like Multisensor 6 and also needs CR123A batteries

It needs a custom device handler on SmartThings
Best in Value: Fibaro Motion Sensor 4-in-1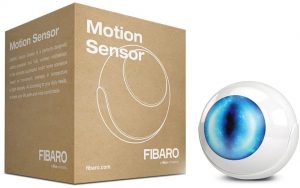 Light, Motion, Vibrations, Temperature

Indoors only

1x CR123A long battery life for up to 2 years

Tamper-resistant

Up to 50 m outdoors range and 40 m indoors
The Fibaro Motion sensor offers way more than what its name proposes. It's essentially a multisensor that can efficiently quantify temperature, vibration, and light intensity, along with motion. 
This design component was given high consideration by Fibaro and can be observed through its unique and stylish cat-eye elegant LED style and the smooth-edged sensor. 
The round shape and the dazzling cradle-like design lets you adjust the sensor precisely and prevent blind spots in the motion detection zone.
The Fibaro multisensor was the first Z-Wave sensor that we tested, and we are sure thrilled by the results. 
We are highly impressed with its excellent battery life and flawless performance. We especially liked the cat-eyed multi-color LED that flashes as soon as some motion is detected.
The color of the LED depends on the temperature of the room. If it is too cold, it shines blue; if the weather is appropriate, it flares green and sparkles orange if it is too warm. 
So, the moment you enter the room, you can quickly know the temperature by observing the color of the flashing LED.
Other Alternatives For Z-wave Motion Sensors
Fibaro Door/Window Sensor 2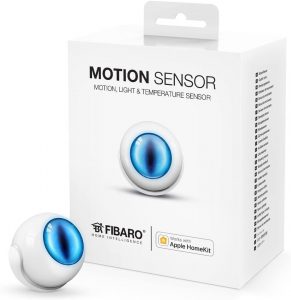 Temperature, Open/Close

Indoor only

1x ER14250 ½ AA, long battery life for up to 2 years

Tamper-proof

50 m range outdoors and 40 m indoors
The Fibaro Door/Window Sensor 2 is a wireless, battery-powered contact sensor that accustoms the Hall effect. 
People might have heard of the usual reed switch sensor created for door and window sensors. This is an electrical switch that closes itself mechanically as soon as a magnetic field is brought close. Now, what is a Hall effect sensor?
A Hall effect sensor is a solid transducer that diverges its output voltage following the power of a magnetic field. 
Meaning does not consist of movable parts, which means that it is not vulnerable to vibrations or shocks, unlike a reed switch sensor.
The sensor is built based on the Z-Wave Plus standards and supports protect-mode with AES-128 encryption. 
It has damage detection, i.e., it will immediately indicate any tampering taking place. It also comes with an LED indicator in seven different colors.
 The measuring range of the temperature is 0-60°C with an accuracy range of 0.5-degree C. It comes with a single ER14250 ½ AA battery rated to last for up to 2 years.
Neo Coolcam 3-in-1 Multisensor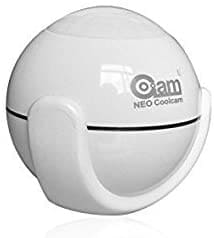 Motion, Light, Temperature

Indoor

1x CR123A, long battery life for up to 2 years

Up to 50 m range outdoors and 30 m indoors
While Fibaro and Aeotec are excellent products that are highly efficient and reliable, still the costs do augment when you require more than one of them. That's when the Neo Coolcam Z-Wave Motion Sensor became a great choice.
Neo Coolcam has been newly launched and starts competing rigorously with the already established players, and the central selling point of these is their super-affordable prices.
The Neo 3-in-1 supports temperature, motion, and light sensors. Motion detection range goes up to 7 meters with 90 degrees of coverage area. 
Along with all these, the temperature can be measured between 0- and 40-degrees C. The unit is handy and compact, with dimensions of 45mm x 45mm x 48mm.
The sensor operates on a single CR123A battery that would last between 1-2 years under standard operation.
Z-wave Motion Sensors – Buying Guide
In general, a motion sensor is an integral part of the security system. These devices detect movements, particularly people, within their field of view. 
Motion sensors are components of the whole security system. When it detects movements, it sends signals to the security system control component. 
Then, the controller triggers warnings like alarms or notifications.  This is particularly helpful in monitoring possible intruders and other threats in the area.
What is a Z-Wave multisensor?
A Z-Wave multisensor is a compact wireless device that customarily operates on battery power and can sense motion by using a PIR sensor. It quantifies several environmental factors like light levels, temperature, or humidity.
The Technology Behind Motion Sensors
In-home security systems, motion sensors commonly use Passive Infrared technology or PIR. 
With this technology, the sensor detects heat from humans within its viewing field. These sensors are sensitive to the body temperature of a person. Since it doesn't need to transmit a signal, these sensors are called passive sensors.
 This means the sensors are passively waiting to detect movements through human heat.
The other technologies used for motion sensors are microwave, ultrasonic, tomographic motion sensor, gesture detector, and video camera analysis software.
Sometimes, motion sensors use multiple technologies to minimize false alarms: an example, a motion sensor that uses both microwave and Passive Infrared technology.
How Do Motion Sensors Work?
The motion sensors, which use PIR, are actively looking for the body heat of a person. 
Once it detects human heat, it sends alerts to the controller of the security system. In the case of the Z-Wave motion sensor, it sends signals to the Z-Wave smart hub. Then, the intelligent corner triggers the alerts or warning through either smartphone notifications or audible alarms.
The Benefits of Motion Sensors
The most common use of motion sensors is used for security. With these devices, you'll know of the presence of intruders or other possible threats within the surrounding. 
Moreover, these sensors can help automate processes in a smart home. As a good example, when someone enters the room, the light turns on.
These are helpful scenarios where motion sensors are beneficial in-home automation and security.
Z-Wave Outdoor Motion Sensors Buyer's Guide
If you're looking for Z-Wave outdoor motion sensors, you can refer to this checklist as a guide to consider:
Motion Sensor Type & Location:

You have to know the technology used by the motion sensor. Does it use PIR or microwave or any other technology? With this, you can assess whether it suits the area where you want to install the sensor. The site may have plenty of animals or near the street where plenty of vehicles pass.

Compatibility:

Most likely, you already have intelligent hubs. So, it is essential to know if your current Z-Wave hub or other smart devices are compatible with the motion sensor.

Detection Range:

It is also essential to know the distance that the sensor can detect movements. In the same way, it is crucial to understand how far you can install a motion sensor to send to your smart hub.

Sensitivity:

How sensitive does the motion sensor to movements of different objects? Or if it can differentiate animals from people? This is important to know to avoid false alarms as well as being reliable.

Read Reviews:

As always, read reviews from other users. This will prevent you from encountering the same problems other people did.
Summary
The addition of motion sensors at home can be very beneficial. Whether indoors or outdoors, motion sensors can provide essential benefits at home. 
These devices can help automate home functions. However, the most significant impact of these devices is the boost it gives to your home security.
In summary, we hope that the information here helps you better understand motion sensors and their importance. 
And, we hope that the list of the best Z-Wave outdoor motion sensors helps you find one to fit within your innovative home system.