Security is one of the most important things to consider at home. With plenty of security devices, door locks and deadbolts are the most common devices which help secure our homes.
With smart technology, door locking systems are also getting smarter. Other than security, smart door locks also provide convenience and control at the touch of our hands.
Here, we'll talk about the Schlage Connect Touchscreen Deadbolt in this review.
In this Schlage Connect Touchscreen Deadbolt review, we'll provide helpful information, features, advantages, and cons of this smart device.
Also, we'll provide a balanced overview and review of this smart deadbolt. Also, we'll present a curated list of inputs and reviews from customers across multiple channels.
With these, we hope this gives useful insights to see if this smart deadbolt fits the doors of your home.
About Schlage Connect Touchscreen Deadbolt
Schlage Touchscreen Deadbolt is a smart deadbolt that aims to provide home security, convenience, and control. Wikipedia explains more what is a deadbolt and how it works.
Packed with smart features, it will help you monitor who's getting into your home. Moreover, it gives you convenience with its touchscreen feature for keyless access to your home.
Yes, you'll never have to worry anymore about leaving your door keys at home.
This device comes within 2 styles, Century and Camelot. Also, each style has different colors and finishes, which cater to user preferences.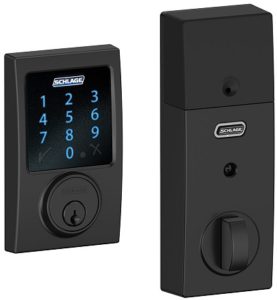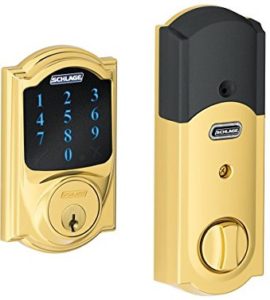 Benefits
The benefits you can get with Schlage Connect deadbolts are security, convenience, management, tracking, and alarms.
Above all, security should be the top and main reason why deadbolts are created. Thus, this should be the first to be taken into account.
Fortunately, this device is built to boost security at home. With a smart hub, you can manage and track who goes in and out of the home. Through sensors, it notifies you of activities, tampering, and forced entries at your doors.
Features
BHMA/ANSI 1 Grade 1 Certified, Highest Residential Security
Durable Resistive Touchscreen protects from fingerprint & smudges
Anti-pick shield protects against lock tampering
Strong motorized bolt automatically locks or unlocks upon user code entry
Built-in alarm technology senses movement in the door for audible alerts
3 alerts selection for activity, tampering, and custom alerts
Supports Z-Wave technology
Connects to your smartphone, tablet and computers
Saves up to 30 user codes
Easy installation with just a screwdriver
No wiring required
Touchscreen feature for keyless convenience
Product Specifications
For Residential single family doors
Grade 1 ANSI/BHMA Certified
Keying: 5-pin tumbler, C Keyway, 1 Key included
Door range: 1-3/8 inches to 1-3/4 inches (35mm – 44mm) standard
Operating Temperatures: Outside escutcheon: -35C to 66C
Operating Temperatures: Inside escutcheon: -10C to 49C
Z-Wave Certified
Great security features: Anti-pick shield, sensors and alarms
Convenience features – No wiring and goes keyless
Plenty of user codes for access monitoring
Certifications for Residential Security and Z-Wave
Good Support
Several issues with firmware compatibility with some Z-wave controllers
Some find it hard and takes longer to install and align correctly
Few experiences fast battery drain
Some experiences issues during winter
Schlage Connect Touchscreen Deadbolts Installation
For more info, the installation instructions and manuals are here.
Our assessment and recommendation
Schlage Connect Touchscreen Deadbolt is a good choice for a smart deadbolt for homes. It is certified with Residential Security and Z-Wave.
This also supports other communication protocols for a smart home network. It boasts great security features like alarm, anti-tampering, activity sensors.
And, this provides convenient features within your control. Indeed, this smart deadlock is a good one to consider. However, take note of the smart home network setup. Know that all of your smart devices must be communicate with others.
This deadbolt needs to connect to a supported smart hub.
Usually, a Z-Wave certified smart hub would be fine. Other than that, this deadbolt can be a good smart door lock for your home.
Alternative Products
Summary of this Schlage Connect Touchscreen Deadbolt Review
In summary, the Schlage Connect Touchscreen Deadbolt will definitely improve home security. Not just that, you can monitor who is in and out of the home.
Also, it brings convenience with its smart features. Lastly, it's certified with ANSI Grade 1 which ensures the device is tested for residential security.
We hope this Schlage Touchscreen Deadbolt review gives you useful information for your smart deadlock research.
Review Rate
Features

Performance

Usability