Wink has introduced a new required membership for its popular home automation hub. 
You'll lose your automation, smart rules, and access to voice control if you don't subscribe for a $4.99-per-month subscription plan. With the threat of losing control over their home automation system, many are thinking of ditching wink and look for best wink hub alternatives.
The good thing is that Wink customers may choose from a variety of options, including Samsung's SmartThings platform, Amazon's Echo line, and the Securifi Almond. 
To find the best smart hubs, we combed through 20 professional sources and thousands of customer evaluations. We prepared a list of our best choices for wink hub alternatives based on their pricing, performance, and best features.
Read More: Wink Vs Smartthings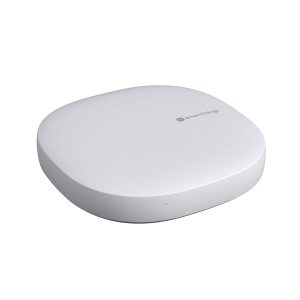 Compatible with Z-wave, Zigbee,  Bluetooth, LAN, Cloud-to-Cloud.

Wireless connectivity to integrated smart home devices is supported.

Links to the SmartThings app for creating custom smart home rules and controlling them remotely.

Send alerts to your SmartThings mobile app based on the triggers you choose.

Compatible with Amazon Alexa and Google Home
The Samsung SmartThings hub is the ideal alternative for all of your Zigbee and Z-Wave-enabled smart devices. The main goal of this gadget is to provide you absolute control in your hand. 
The best part about Samsung SmartThings is that you don't even have to worry about switching between numerous applications for different appliances or using various protocols for each one of them. 
Samsung SmartThings comes with an application that can be completely customized to your tastes and needs in order for you to have the best experience possible with it. 
This is the best option if you want something more complicated and impressive than Wink Relay.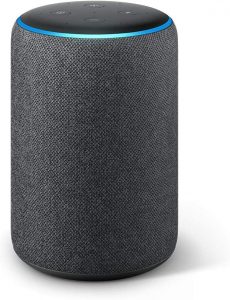 Echo Plus includes a built-in Zigbee hub for a simple setup.

Dolby Atmos-powered premium speakers offer 360° audio with clear voices and dramatic bass response.

Ask Alexa to play music or answer questions. read the news, check the weather, and more

Can control Zigbee-compatible smart lights, switches, sensors, door locks, and other devices.

Echo Plus can hear you from any direction thanks to seven microphones and beamforming technology.
The Amazon Echo features a large library of 'skills,' which are basic instructions that may be used to operate a variety of different apps. 
It only takes a few words to order a Pizza or request a cab ride. Amazon regularly updates Alexa's skills, and developers may integrate them into their programs.
The Alexa Voice Service available on the Amazon Echo is also featured on the Amazon Fire TV set-top box and many other Amazon devices such as the portable Echo Tap and smaller Echo Dot. 
The incorporation of Alexa into other items creates a larger ecosystem with common features and capabilities. The Alexa Remote also services this environment.
Amazon Echo is compatible with a variety of smart home and Internet of Things devices, including Nest, Ecobee, SmartThings, Wink, Insteon, Belking WeMo, Philips Hue, Lifx, Big Ass Fans, and even IFTTT. In conclusion, Echo is quite open to third-party device integration.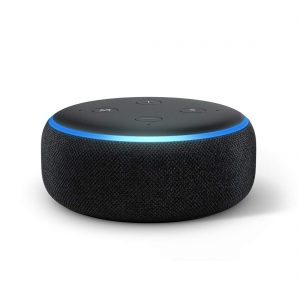 Complete control of your smart home with voice commands.

Dot adjusts to your speech patterns, vocabulary, and personal references as you use it more and more.

Using your voice, you can call nearly anyone hands-free.
If you're still not sure if you'll use a smart speaker, the Echo Dot is a terrific alternative. It performs many of the same features as other Amazon smart speakers, but for a fraction of the price.
Its combination of a brilliant voice assistant and powerful hardware packed into a little gadget with an even smaller price made it enormously and unsurprisingly popular (it surpasses every other Echo product on Amazon's online store in terms of the sheer volume of customer reviews).
The Dot is smaller than the normal smart speaker, so it should be easy to find a location for it. 
You may improve the sound by plugging in an additional speaker (or headphones) through the 3.5 mm connector.
Logitech Harmony Smart Home Hub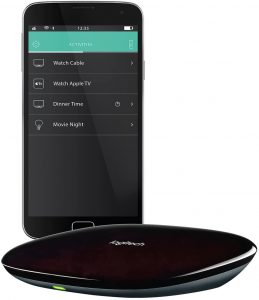 Works with Alexa to provide you voice control over your home entertainment devices.

Combine up to eight remotes and a plethora of applications into a single, simple-to-use smartphone app.

Make your own activities to control your home entertainment.

Harmony App is available for iOS and Android smartphones and tablets.

The Harmony Hub allows you to operate equipment that is housed in locked cabinets.
The Logitech smart home hub is ideal for individuals looking to set up their own at-home movie theatre or TV viewing area. 
It is compatible with almost all operating systems, including Windows, and may be accessed via a personal desktop or laptop instead of a smartphone. 
Many smart hubs are incompatible with Windows operating systems for some reason, so it's amazing to find one that is.
The gadget has a remote control app for iOS and Android. This provides even more convenience and control over all of the gadgets in the house. Individuals may also run many apps at the same time without worrying about running out of power.
The little black box connects to up to eight devices through Bluetooth and wi-fi, including your TV and wireless game consoles, as well as smart speakers and lights. 
It requires an extension to connect to Zigbee and Z-Wave devices. However, it is Alexa and Google Assistant compatible.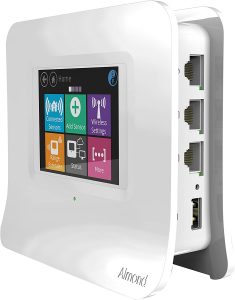 The touchscreen wizard makes it ridiculously simple to set up in minutes.

Coverage is extensive

The smart house wi-fi system provides ultra-fast and reliable wi-fi throughout your home.

Support for Philips hues, next, and Amazon Alexa.

Universally compatible with most isp modem/router systems.

Use the free almond ios and android apps to access and control connected sensors.
The Almond 3 appears to be a wireless dual-band router, and its primary function is to link your entire home to the Internet.
It covers the entire 1,300 square feet, which is ideal for larger homes, and it also turns your home into a smart house. 
The Almond 3 employs ZigBee technology to control your home's lights, window sensors, thermostats, and just about any other smart device via the Almond 3 app.
Everything you're likely to need is included within the Securifi smart home hub. A security alarm and a touchscreen interface are examples of such features. You can also get access to guest passwords, weather, news, music, and a lot more.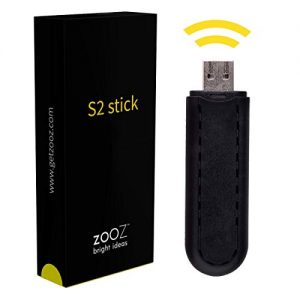 S2 SECURE Z-WAVE PLUS: This is the first Z-Wave USB Stick to support the new S2 security standard.

Works well with popular applications such as Home Assistant, HomeSeer, Domoticz, and OpenHAB.

It supports the new Z-Wave pairing technology, which is both speedy and secure.

Easy To install

1-year warranty and lifetime technical support
The Zooz Z-Wave Plus S2 USB Stick enables you to create a solid foundation for a smart home by combining hardware and software components that provide you complete control. It connects to your PC or laptop and has the latest Z-Wave advancements. 
This gadget uses SmartStart technology for integration and features the most recent S2 security standard. You do not need to install any drivers on your Windows, macOS, or Linux machine.
Buyer's Guide for Wink's Alternative Hubs
Having a hub that meets all your requirements is a key factor for making the best out of it. Unless you have a smart hub that has features like being compatible with all your devices, easy to operate and has a battery backup, it is a waste of resources. 
Some of the factors that you must consider before zeroing down on a smart home hub are mentioned below,
Wired Vs Wireless Hub 
The communication protocols will decide whether or not the system is dependable. 
A Zigbee smart home hub, for example, has a wireless connection, but other devices may require an Ethernet or other connection. 
One is not always superior to the other, but buyers should choose which will best meet their requirements. A wired hub is generally more convenient for connecting to devices such as the Amazon Echo.
Sensor Range
Individuals may require many sensors depending on the size of their property. This might also imply that they will need to purchase more than one smart home hub. 
They should also look at the communication requirements, such as wi-fi, Bluetooth, and Ethernet. Keep in mind that third-party compatibility is also an important consideration.
Battery Backup Option
If the Internet in your location is unreliable, or if they want to be cautious, battery backup is something to consider. 
It isn't as prevalent as one may imagine in home automation hubs. Consider another source of continuous electricity as an option.
Complexity of Device
Please take a close look at the smart hub you're thinking about purchasing and examine what it's intended for. It might be a system best suited to renters or elders. 
Perhaps it has too much personalization, making it unnecessary. Examine how effectively the mobile app interfaces with the system and make a decision after considering all these things.
Voice Control
A smart home hub that lacks voice commands capabilities is not worth the investment. 
It's much handier to be able to provide an order rather than having to navigate through the program to find the function. Most systems, thankfully, provide this function.
Professional Monitoring
The greatest smart hub will most likely be one that also functions as a security system. 
Some hubs, such as Zigbee devices that sync with Ring alarms, are capable of this feature. This functionality is frequently accompanied by an additional fee.
Plan Costs
When it comes to security systems and hubs, keep in mind that they frequently necessitate a membership or contract. 
However, given their simplicity of use, adaptability, and sense of security, these home automation hubs may be worthwhile.
Ability to adapt
You should consider what you want your smart hub to perform. Some folks don't mind synchronizing it with their security system. 
Others want to connect all of their applications to the network so they can manage lighting, thermostats, cameras, and other devices. Thus, adaptability is very important in this situation.
Operating System Compatibility
Almost all home automation hubs are compatible with the iOS and Android operating systems. 
Check the technical specifications if you have a different operating system, such as a Windows phone. A hub may be of great assistance around the place, but only when it works perfectly.
FAQ's
Is a Smart Home Hub Required for Home Automation?
Yes, smart home hubs are required in the majority of situations. Again, they serve as the focal point or core for all other devices. 
Individuals require a single solution to manage their smart lights, speakers, doorbells, and other devices.
People can also do this using a smartphone app, but only if they have a few devices. Otherwise, a hub would come in handy.
Can security systems serve as hubs for smart homes?
Yes, some of the top smart home security systems also function as smart home hubs, allowing you to control your home automation gadgets (such as a security camera) via the security system app.
How do I pick the finest smart home hub for my needs?
The easiest method to select a smart home hub is to evaluate the smart devices you now own as well as those you want to purchase in the future. 
The first thing is to identify a home hub that is compatible with these devices. Price, connection, mobile app usage, and range are further factors to consider.
What are some of the advantages of home automation?
The primary reason for purchasing a home automation system is for convenience and security. Convenience, remote access, efficiency, and peace of mind are among the additional advantages that the owner might enjoy. 
People all around the world are updating their houses because several home automation systems have grown more affordable and sophisticated.
Conclusion
Because of its interoperability with a large range of smart devices, the Samsung SmartThings Hub is our top smart hub selection. 
We really appreciate how you can tap the "discover all my devices" button in the app, and the SmartThings hub will handle the rest. 
The only major drawbacks to this hub are that it may not be as dependable as we would like and that it is becoming increasingly difficult to get it at a fair price.