Creating a smart home ecosystem is every tech enthusiast's dream. But often, when you try to figure out the appropriate features of the wide range of products available in the market today, it becomes overwhelming. 
A hub is a one-stop solution to help you connect devices and control them together.
Wink Hub and SmartThings Hub are the two most popular hubs on the market in 2021. 
Both offer to add a wide range of smart home options to your ecosystem. Being similar in a few respects, these two hubs also have some major differences.
SmartThings features a premium user-friendly app along with unlimited device options to connect it with. 
SmartThings is completely owned by Samsung and is a California-based subsidiary. It is known for manufacturing smart home devices that operate flawlessly at an attractive price range.
While Wink has some amazing smart home hub choices, it doesn't possess the same goodwill as Samsung SmartThings hub. 
Wink's app has received low ratings on both Play Store and App Store. In addition, users have registered their concerns regarding inefficient usability.
On the other hand, product reviews have been positive for Wink. They have reviewed that it is a pretty simple device to operate and is best for non-tech savvies who want to connect devices inside the smart home.
We have tested both the devices analyzing every aspect to provide in-depth knowledge about the hubs and their functionality as individual devices.
Wink Vs SmartThings: Quick Comparison Table
| Functionality | Wink | SmartThings |
| --- | --- | --- |
| Voice Assistant | Alexa/Google Home | Alexa/Google Home |
| Device Support | Kidde, Clear Connect, Z-Wave, ZigBee | ZigBee, Z-Wave, Honeywell, Philips Hue, Kwikset, etc. |
| Mobile App/Smart Device Connection | Yes | Yes |
| Compatibility With Major IoT Devices | Yes | Yes |
| Connection Options | 2.4GHz (WiFi) | Smart Hub via 5GHz WiFi or included Ethernet port. |
| Number of Devices That Can Be Paired | 430 | Unlimited |
| Dimensions (Inches) | 8" x 3" x 8" | 4.9″ x 4.2″ x 1.3″ |
| Bluetooth LE | No | Yes |
| Battery | No | Yes |
| Battery Backup | No | 2 hours on backup |
| Local Storage | 64 MB | 512 MB + 4 GB Flash |
| Weight (Pounds) | 0.5 | 0.5 |
| Prices | Buy On Amazon | Buy On Amazon |
| Memory | 64 MB | 256 MB |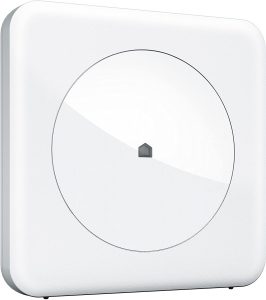 Wink is one leading company making your home smart and has been in the market for a while.
Wink is an affordable brand and an easier source to create a smart home all by yourself. 
It comes with a user-friendly app that will let you control every device from anywhere you are. Moreover, you can get yourself a bunch of compatible devices to enjoy a flawless transition.
The ultimate goal is to easily connect smart devices in your home to make your life hassle-free. They have a DIY security system that will get you hooked on the brand.
Some of the most compatible brands with SmartThings are:
GoControl

Ring

Sylvania

Phillips

Lutron

Leviton

Sengled

Hampton

Honeywell

Ecobee

Rachio

Sonos

Chamberlain
Pros:
  Compatibility: 
Several great products have been launched in the market that are compatible with Wink hub, making it easier for you to find the device you need to add to your smart home without worrying about the compatibility issue. 
From smart door locks to smart lights, you have a wide range of devices to integrate just about everything into this hub.
  Price: 
The Wink is quite an affordable product compared to SmartThings. Amazon brings several offers and discounts for buyers now and then. 
Our experts have marked it as an efficient investment to control your smart home easily.
  Voice control: 
Wink supports both Amazon Alexa and Google Home voice assistant. So you can ask Alexa or Google Assistant to manage your locks, lights, or any other task you want just by using your voice commands.
Cons:
  Poor app reviews: 
This probably is the major downside of Wink hub. We went through the reviews posted by the users on the Play Store and App Store and found that the rating for the Wink app has gone down to 2 stars. 
It does put a hole in our confidence in the smooth usability of the app. The app is a regularly used source; hence it is disappointing for the product.
  No battery backup:
If your house is sensitive to power outages or surges, this hub has no battery backup to support in such cases. 
If your power goes out, the ability to control your hub will be gone too.
About SmartThings WiFi Hub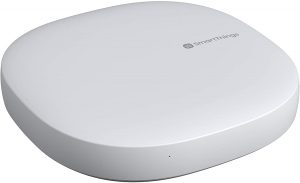 SmartThings is a smart device that enables you to control the activities in your smart home and allows you to control via a mobile app remotely.
SmartThings WiFi hub is entirely cloud-based for smart home automation that primarily enables control of smart lights, smart outlets, and much more. 
The major benefit of this device is it features an integration of the hub with a voice assistant, mainly Amazon's Alexa and Google Home Assistant.
SmartThings, as people are aware, is completely owned by Samsung. Some of the most compatible brands with SmartThings are:
Arlo

Ecobee

Samsung SmartThings

August & Yale

Schlage

Sonos & Bose

Innr

Inovelli

Aeotec

Sengled
Pros:
  Top-rated App: 
SmartThings app goes way up with a rating over four stars on both the app stores, which builds our confidence in the app to utilize it regularly hassle-free. 
Since you need the app to control your smart house daily, this counts as a huge selling point of the device.  
  Unlimited connections: 
SmartThings hub enables you to connect as many smart home devices as you want. This means any product that you purchase will be perfectly compatible with this hub.
  Battery-backup: 
SmartThings has offered battery backup in case the power goes out. So you won't have to panic about your system shutting down due to long power outages.
Cons:
No option for a security system:
ADT is compatible with Wink Smart Hub, whereas you cannot purchase a DIY security system for SmartThings, unlike Wink.
For Tech-savvies:
If you are not technically inclined, SmartThings might be troublesome for you to set up. 
There are rules within this system that might seem complex to non-specialists. But if you are a techie, you'll enjoy it.
Wink Vs SmartThings: What is Different?
1. Option of Security System:
Wink provides a complete DIY security system with its hub. It features automatic dialing 911 in an emergency through its motion sensors. 
Although SmartThings supports several security systems, it doesn't have its buy.  
2. Number of connected devices:
Up to 430 devices can be connected to the Wink hub, whereas SmartThings can connect unlimited devices. 
Usually, people have very few smart home devices, but if you have a bunch of them, then SmartThings is the one for you.
3. Battery backup:
A power outage is a major concern when you have a smart home décor going on. While SmartThings has a battery backup for such situations, Wink doesn't help that way.
4. App store ratings:
The SmartThings has a complete edge when it comes to app ratings. The rating for the Wink app is below two stars in both app stores, while that of SmartThings is above four stars.
People have mainly complained about Wink's app having usability issues.
5. Memory:
SmartThings offers a memory space of 256 MB, which is way more than what Wink offers, i.e., 64 MB. But then, if you don't have a lot of smart devices, you probably won't need that much space, so it doesn't matter.
Wink Vs SmartThings: What is Similar?
SmartThings and Wink are similar in the following aspects:
1. Voice Control: 
Both Wink and SmartThings offer voice assistants through Amazon Alexa and Google Assistant. 
This is an extra level of convenience as you can ask Alexa to perform a specific task such as lock the door, turn off the lights, etc., through your voice commands.  
 2. Mobile apps: 
Both Wink and SmartThings have user-friendly mobile apps to be controlled. These can be downloaded through Google Play and App Store.
3. Compatibility: 
Both the hubs have high compatibility with several smart home devices. 
If you are interested in a specific brand or have existing smart home devices, then we recommend checking both Wink and SmartThings to make sure they are compatible.
4. No subscription: 
There is no monthly payment or subscription fee with Wink and SmartThings. You have to purchase the product once, and you can keep using it to keep your smart home running for as long as you want.
5. Affordability: 
While Wink is comparatively less expensive than SmartThings, both are affordable and reasonable depending on the kind of features they offer.  
6. Easy to install: 
According to the results our team drew out after testing both the hubs, we can say that both Wink and SmartThings are quite simple to install. The setup is very flexible according to the ways you want them.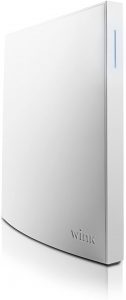 The Wink Hub 2 is a white color and sleek designed attractive hub that lights elegance in your room.
The Wink Hub 2 is slightly bigger and heavier than the SmartThings hub. However, it is still very easy to set up and quite portable to carry around on your own.   
Wink Hub 2 allows connecting it with several smart home devices such as doorbells to keep tabs on the movements. You can even unlock the door remotely, even when you are home.
The new and advanced Wink 2 also has a user-friendly app compatible with Android, Windows, and iOS devices. 
Users can monitor and control whatever occurs in your smart home, and you will get alerts with every event on the app.
And obviously, like its predecessor, Wink 2 also supports voice assistants, i.e., Alexa and Google Home. 
So you can direct your smart home devices to perform whatever tasks you want them to do with just the command of your voice.  
The Wink Hub 2 includes a power port and an Ethernet port to connect it with WiFi. 
But it doesn't have a USB port, unlike the SmartThings hub. Instead, it uses an In-wall AC power source to work as it doesn't have a battery backup. In case of a power outage, the system will shut down to go offline.  
Wink 2 also supports Bluetooth LE, which is an upgrade from the previous model that didn't. You can also connect it with 5 GHz or 2.4 GHz WiFi and Clear Connect, Kidde, Z-Wave, Zigbee, etc.
Wink Vs Wink 2: Key Comparison
Functionality
Wink Hub
Wink Hub 2
Device Compatibility
Kidde, Clear Connect, Z-Wave, ZigBee
Clear Connect, Nest, Z-Wave, ZigBee, Nest, Philips, Ecobee, Ring, Kidde, Schlage, Go Control, Arlo, Sonos, Chamberlain, Yale, etc.
Local Control
Basic
Enhanced
Connectivity
2.4GHz (WiFi)
2.4GHz (WiFi)
5GHz (Wi-Fi)
Ethernet Port
Memory
64 GB
512 GB
Dimensions
7.25″ x 7.25″ x 1.75″
7.25″ x 7.25″ x 1.25″
Setup
Manual discovery
Guided Setup + Auto-discovery
How Are Wink 2 And SmartThings Different?
One of the major and significant differences between Wink 2 and SmartThings is the battery backup. 
While SmartThings comes with a replaceable 4 AA battery backup, Wink isn't battery-powered at all. 
This implies that Wink will go offline in case of a power outage while SmartThings will continue to run with battery backup for at least 2 hours.  
Secondly, the ports that both the hubs have are quite different. While both the devices come with an Ethernet and power port, SmartThings comes with a USB port. There is no USB port featured in Wink 2.
While both the hubs have portable built, Wink 2 is comparatively bigger and heavier in size, almost twice of SmartThings.
On the other hand, SmartThings does not have such restrictions as you can connect as many as you want. This is because most people don't need that many connections in their homes.
Unlike Wink, Wink 2 mobile app is quite user-friendly. On the other hand, the SmartThings app, compared to Wink 2, is a bit chunky.
Wink and SmartThings
While Wink provides an amazing interface for beginners for home automation, for those who don't want to be overwhelmed by tech support, the recent issues regarding the financial viability of the makers are a substantial cause of concern. 
They have switched to a minor monthly subscription which may resolve the above case.
Samsung offers well-supported robust connectivity. So, even if the complexity is generally higher, you are still future-proof regarding the company's longevity and your personal growth towards complex home automation conditions.
For basic, you can yourself start with SmartThings just with Aeotec. You can even merge it with a router upgrade with the help of the SmartThings WiFi mesh system.
Wink 2 and SmartThings
When compared in terms of main features, SmartThings offer many premium features. 
The SmartThings offers features that outclass the Wink 2. It also comes with a USB port, and it connects as many devices as you want with 2 hours of battery backup. 
On the other hand, Wink 2 is highly convenient to use and is perfect for techies. SmartThings is slightly on the more technical side and also complex to install. Wink models have also offered a monthly subscription on all their devices.
SmartThings has an edge when you start to decide between SmartThings and Wink for your smart home. 
With its high-rated app and 2 hours battery backup, SmartThings provides premium features. Also, if you own a bunch of smart home devices, SmartThings is perfect for you, as you can connect unlimited devices.
However, Wink Hub and Wink Hub 2 are also great discoveries, especially if you want an easy DIY security system with a hub. Furthermore, the security system by Wink works with its hub, so it is perfect if you are already fond of Wink.
Lastly, both systems are very popular for their user-friendly interface and installation. 
But apart from all of this, your choice is more likely to depend upon your priorities and preference.