With every update, Amazon's assistant receives, it adds advanced features and interactivity choices. 
In this article, we laid out our results based on the detailed tests our experts ran to bring you some of the best interactive devices that are compatible with Alexa such as lights, displays, speakers, thermostats, wall plugs, appliances, cameras, and smart locks. We maneuver to make your life simpler and for you to begin right.
While Alexa is an astoundingly helpful device on its own, if you have skeptical questions like which device would be the most compatible, which one would be easier to operate, which one would be more accurate, etc., this is the ultimate list for you. 
We have worked here to round up the best Alexa compatible devices for you on the market, which are easy to operate, supremely efficient, and also substantially priced.
There are hundreds of smart home devices that work with Alexa and advertise usually on Amazon. And while all of these imply that they're the best, most of them don't live up to what they claim. 
So, we've done some rigorous testing for you and have come up with a significant list of the best Alexa compatible devices of 2021. 
Our Top-5 Best Picks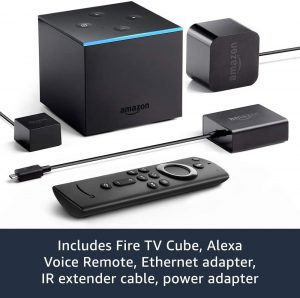 The Amazon Fire TV cube is one of the best Alexa compatible devices for an ultimate streaming experience.
Like its predecessor, the Fire TV, the Amazon Fire TV Cube is designed to give an extraordinary streaming experience on your command. It is currently the best Alexa compatible device in the market. This device lets you use Amazon's assistant to control your smart TV, cable box along with your other streaming equipment.
Lightening Features:
      3.4 x 3.4 x 3.0 inches portable size for an ultimate streaming experience

      Lighter in Weight, i.e., 16.4 oz, for convenient mobility across your favorite places

      Speedy performance with an intuitive interface that eliminates all kinds of lags

      Smoother controls on Alexa's cable box

      4K HDR picture quality with supported Dolby Vision and HDR10+, for an excellent viewing experience

      Improved controls to enable a compatible soundbar, select smart home devices along with the set-top box to change live TV channels on your voice commands
In addition to the premium features, the Fire TV Cube also comes with a new-and-advanced Alexa remote, so you can now easily navigate manually if Amazon's voice assistant cannot find what you're looking for or for times when you don't feel like giving voice commands.
If we talk about the price, it's a little on the steeper side compared to other Alexa devices, roughly costing around $120, so shoppers on a budget might be a little skeptical at first to opt for this one. But based on our tests and the experience we had with this fun device, we think it's worth the price.
Final Verdict
Amazon 2nd Generation Fire TV Cube accustoms faster performance to make your Alexa-enabled TV experience flawless.
2. Philips Hue White LED Starter Kit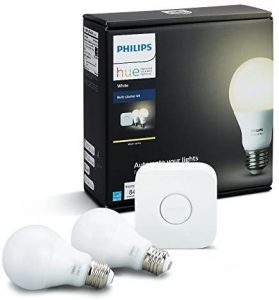 Philips is a flagship of the appliance industry. They provide the widest range of bulbs and home lights products.
This one of the bestselling Alexa compatible smart lights on Amazon today. Numerous smart lights work well with Alexa these days, but our in-depth testing and experience tell us that the Philips Hue Smart Light is the best of all devices that thrive under this category.
Lightening Features:
Efficient and Powerful to use with 8.5 watts and an Operating Voltage of 120 volts, it also provides a frequency band of 2400-2483,5 MHz

Affordable starter pack for new users which includes hue bridge and two bulbs as well as a hub that links the lights to your WiFi

It provides controls for up to 50 bulbs on a single bridge, a cracking deal for those on budget

It gives you an ultimate home lighting ambiance, allowing users to create and control the light using a smartphone or tablet

Compatible with Alexa, Google Assistant, Apple HomeKit, Samsung SmartThings, IFTTT, Xfinity, and much more

All Hue products can connect directly to Echo Plus, i.e., without a Hue Bridge though they will still need a Hue Bridge to be controlled via the Philips Hue App
 The Hue White LED Starter Kit is one such premium product launched by Philips, wherein the Hue app enables the users to control the voice in a far better way than any other brands in the market currently.
In addition to all this, the WiFi link will enable you to dim the lights and other lighting controls. 
The only minor downside to this product is that the bulbs in this kit don't change color. For that, you can purchase the Philips Hue White and Color Ambiance A19 bulb starter kit.
Final Verdict
A comprehensive app, ease of use, and an extensive ecosystem make the Philips Hue White Starter kit the best of 2021.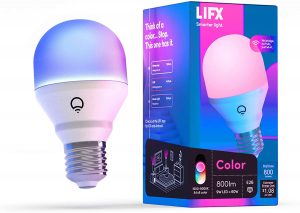 Yet another fun device under our list of Best Alexa compatible devices in 2021. Lifx Mini is again the highest selling WiFi smart lights on the market.
When choosing the best Alexa compatible device, Philips Hue lights rule the market, but for those, you will be required to install a bridge to operate smoothly. Whereas when we compare them to the Lifx Mini smart bulb, these connect directly to your WiFi network, making the setup much more convenient and easier.
Lightening Features:
It comes in handy sizes of 2.2 inches that will easily fit in a variety of small light fixers, wall and desk lamps at your convenience

Lifx Mini enables the users to turn on and off and set the color, brightness as well as schedule

Works with Alexa, Apple HomeKit, and the Google Assistant for voice control

It comes with a Beam Angle of 250 degrees for a better and wider light spread

It also offers intuitive control to enable its users to control lights individually or as groups, even set timers for one-touch automation

Several cooling effects can be produced using the Lifx Mini to set the room lights according to your mood and taste

The bulbs have transitioned, too, such as flickering like a candle, fun spooky effects, strobe effects, and changing colors on your favorite music beats
Final Verdict
Lifx's mini bulbs might be a little complex to set up for new users, but once they are up and running, they're easy to integrate into a smart home.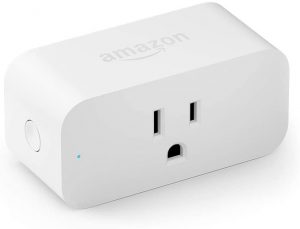 The Wemo WiFi Smart Plug is our favorite handy device on this list. Not only is this one of the best smart plugs, but it has also been the best smart home device overall.
Smart plugs like Wemo are very cost-effective and convenient to let the users control the otherwise inefficient appliances from their smartphone and link them to a smart home network.
The Wemo WiFi Smart Plug is one of the best Alexa compatible devices under $30 and our top choice in the list.
Lightening Features:
 It is easy to install due to its compact size, i.e., 1.3 x 2.0 x 1.8 inches, and a sleek new form-factor that allows you to stack two Mini Smart Plugs in the same outlet

It also works with Nest, enabling you to sync with Wemo for automatic home/away control. Our smart plugs also work with IFTTT, which will connect you to numerous Web apps

The smart plug has an Electrical rating of 120V~/15A/60Hz/1800W for a better power supply

It also helps to protect the home way better than a mechanical timer. The "Away Mode" will turn the lights on and off intermittently to make it seem like you're home even when you're not

It now comes with an improved footprint physical control to enhance your comfort level

It comes with a smart physical switch as well to enable manual use for times when you don't want to give voice commands
Wemo WiFi Smart Plugs are more compact and efficient than other competing options available in the market, even if it is the Wemo Mini predecessor. And while it lacks energy monitoring like some other smart plugs, the Wemo WiFi Smart Plug still works with all the major smart assistants.
Final Verdict
The Wemo smart plug is compact, making it a cinch to make your floor lamp or some other appliance into a smart one.
5. August WiFi Smart Lock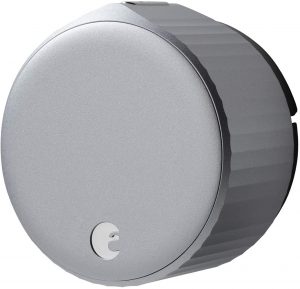 August WiFi Smart Lock is our best tested Alexa compatible device under the smart lock category. Due to the compact size of its predecessor, August WiFi Smart Lock has given us astonishing results.
The device was efficient enough in the first place to not need further enhancements. Still, the creators took a step ahead and contracted the size of the lock into an even compact one, which made it much easier to use.
Lightening Features:
Smart features enable you to lock your doors and entrances from anywhere with the help of your voice

It comes with a Biometric Verification Opt-in, which will use your smartphone's facial recognition or fingerprint scanner as an additional security verification before operating your lock remotely

The 4th gen smart lock from August now comes in a much more compact size which is 45% smaller than the original, to raise the levels of your comfort

This device works with all the major voice assistants, i.e., Siri, Alexa, and the Google Assistant

It enables users to use their voice to easily control the door providing easy management of the home locks

Users can share the secure keys with friends, family, or people they trust whenever they require via the August app and can also cancel the same access anytime they wish

It also has built-in WiFi, which lets you skip the August Connect bridge for linking your lock to your home network

It also sends you an alert about low battery and reminds you to install fresh ones
The August WiFi Smart Lock is the most connected Alexa-compatible device we've tested so far.
Do you ever startle yourself in the middle of the night wondering if you locked the doors and front entrance of your house? We are sure everyone experiences this once in a while.
Hitting the best Alexa compatible device list this year, the August WiFi Smart Lock brings you the ultimate sense of peace for your mind. You can now ask Alexa if your house is safely locked. She'll tell you if it is or not and will even lock them for you on your voice command.
Final Verdict
The August WiFi Smart Lock is much more compact than before, along with a built-in WiFi feature, improving on an already successful device.
6. Ecobee 5th Generation Thermostat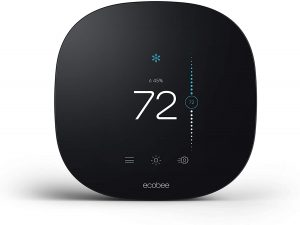 Ecobee 5th gen Thermostat has been sailing up in the market ever since it was launched. Hence we were very excited to test this under our smart thermostat category, and we are thrilled by the experience we had. 
This one makes the first cut in our list of honorable mentions as the best smart thermostat in 2021.
Lightening Features:
It comes with built-in Alexa support enabling voice controls. The thermostat comes with a mounting plate along with Smart Sensor and a detachable stand with an easy wall-mount adhesive

The smart thermostat is created for music with wireless Bluetooth built inside and stream on Spotify

The 5th gen comes with an improved WiFi along with 5GHz support and a quad-core processor

It also offers a lasting power which helps in reducing wastage of energy in your house, which saves over 23% yearly on all your cooling and heating expenses

      Works with all your desired smart home systems
The innovative Ecobee 5th generation smart thermostat offers you all of Alexa's qualities and additional features like calling Alexa's drop-in and messaging. 
The advanced Ecobee now comes with an improved speaker, so it's excellent for playing tunes if you wish to own a device that provides soothing background music to light up your mood.
More importantly, the creators have now redesigned Ecobee for a much more accurate remote sensor that has a much more efficient range and long-lasting battery life.
This fun device comes with built-in Alexa and is one of the most efficient Alexa-compatible devices.
 If you don't wish to install a smart speaker separately but still wish to interact with your Alexa, you can go for this thermostat without any second thoughts.
Final Verdict
Ecobee has enhanced Alexa and its speaker quality in the company's newest launch of a smart thermostat.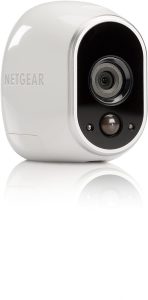 Now when we talk about home security cameras that are compatible with Alexa, we have quite a wide range of options in the market these days.
But after testing the Arlo Q security camera device, our experts believe that this one has some unique features that make it the best Alexa compatible home security camera available today.
Lightening Features:
 Arlo Q comes with a video resolution of 1080p/30fps with 130 degrees field view coverage. It also has a 25 feet night vision so that you view everything in a more brilliant clarity

Arlo Q also supports double way audio that enables you to listen closely and communicate back using the speaker and mic built right in, directly with your smartphone

Compatible with Alexa, Google Assistant, and IFTTT

It comes with cloud storage with seven days of free motion and sound-activated recordings

Users can elevate to CVR to retain 24×7 recordings in the cloud storage
If you own an Alexa device with a display, like the Amazon Echo Show or an Amazon Fire TV, you can ask Alexa to stream a live feed from the Arlo Q security camera from anywhere you want.
This comes in handy if you're in one room of your house but want to see or hear what's going on elsewhere. However, the Arlo Q is an indoor-only camera.
Final Verdict
The Arlo Q is an outstanding security camera with amazing video quality, efficient motion and sound detection, and a substantial free cloud storage plan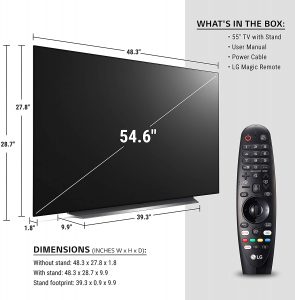 LG is yet again a profitable brand providing premium products. LG has offered the best Alexa compatible smart 4K TV in the market currently.
LG's CX OLED TV is one of the best smart TVs we've reviewed. We are highly impressed by its amazingly impressive display in a super-sleek design and powerful performance.
Lightening Features:
LG CX comes with an enormous screen size of 65 inches with an impeccable OLED display that gives a high resolution of 3,840 x 2,160 for the greatest viewing experience

It also comes with a Dolby vision along with 2.2 channels, 2 x 40-W speakers, x/20-W woofer, AI Sound Pro, AI Acoustic Tuning for a thrilling sound experience and efficient voice recognition

The CX also provisions the most amazing 4K high dynamic range formats, which includes HDR10 and HLG, enabling users to stream YouTube as well as 4K broadcasts from DirecTV, using nothing but your voice

It comes with a built-in Google Assistant and Alexa

The LG CX can be easily wall-mounted using a standard VESA 300 x 200 bracket

It includes a wedge-shaped table-top stand that makes for a very sturdy support
Final Verdict
An outstanding display quality now enhanced with unique sound options–but still steeply-priced for those under budget.

The Sonos Beam is one very sleek and attractive device we came across so far. When we talk about soundbars, we don't see many options in the market in this category.
But when we put our research together for testing, we were baffled by the results we received. Hence it is safe to say that this is the best Alexa compatible soundbar in 2021.
Lightening Features:
It is designed like an elongated pill, flattened, the 25.6 x 3.9 x 2.7-inch, making it much compact than other soundbars, which fits easily on most TV stands

The Sonos smart speaker devices four high-ranged woofers along with an HDMI ARC port, enabling the buyers to sync the speaker's audio to the TV

Sonos Beam soundbar has Alexa built right in

The Sonos Beam can be used to play music with your TV off. Also, you can enjoy streaming from multiple sources via Sonos' app
Sonos Beam soundbar is one of the most purchased devices for soundbars that are compatible with Alexa. 
The High-definition and premium sound quality lets you enjoy the rich, detailed audio for your TV that fills the entire room for under $400. This is one efficient and portable device for music, TV, movies, podcasts, radio, audiobooks, and video games. 
Final Verdict
The full feature-packed Sonos Beam delivers stunning sound features for a small soundbar, also comes with Alexa voice controls
10. SimpliSafe Essentials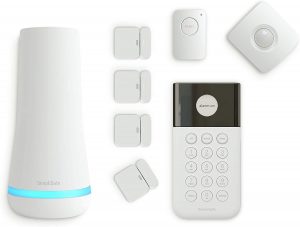 SimpliSafe Essentials is an all-in-one kind of ensemble home security kit.
After running the different modes and attachments in this kit, our experts believe that this is the one to pick. SimpliSafe is surely the best Alexa compatible home security kit in 2021.
Lightening Features:
SimpliSafe is simple to assemble and has a lot of variants in sensors and accessories

SimpliSafe essentials come with an option to monitor professionally for $15/month, with a full remote access

It includes its smart lock

Amazon's assistant can be used to instruct the SimpliSafe system the moment you walk out of the house

It also comes with a keypad, base station, three-door, and window sensors, along with a motion detector which makes it a package deal

Other than Alexa, it is compatible with August, IFTTT, and Google Assistant
If you're interested in efficient home security systems but are unaware of the mechanics of smart-home technicalities, SimpliSafe Essentials Kit is an affordable and smart option. The company provides several kits, all premeditated around a centralized base station, with each kit provides various accessories at different prices.
Final Verdict
The SimpliSafe home security kit is convenient to set up and much easier to use.
How Do We Test the Best Alexa Compatible Device For Your Smart Home?
While reviewing any smart home device, we prioritize few important aspects before assigning it a rating or a POV, like:
How convenient the device is to be installed by any user, experienced or new?
What features does the device have compared to the wide range available in the market within its price range?
Does it offer what it advertises? How easy is the app to use? Is there a sensible layout? Is it worth investing in?
How expensive is it when compared to other similar devices? Price is an essential factor in the final rating when checked with the performance of the device.
What Should be kept in Mind while Picking a Match for your Alexa?
There are so many smart home products today that work with Alexa that knowing which ones are the best and most compatible becomes daunting. 
But to ease you up for the future, here are some aspects that you should consider while picking your best Alexa compatible devices-
Is the product well-designed? Like in the case of smart plugs, for instance, is it slim enough or much compact so that it doesn't block out another outlet?
What feature does the smart home device offer? If it's a smart plug or a smart light, does it include a Home/Away feature, and can you schedule it on your commands?
Often, the cheapest smart home device is not the best. Not everything cheap is necessarily best. You may be curious about a more affordable gadget, but ensure it meets all your requirements before buying it.