There are many smart home security cameras in the market, but the decision to choose is taxing. 
You wouldn't want to invest heavily and get only a limited number of benefits from it, but then going for a cheap camera might hamper the quality. This article will help you to get a better knowledge of Smart Z-Wave Outdoor cameras. 
We have anticipated the diverse requirements of the masses and did thorough research in curating this list for you to have a guaranteed quality pick. We have brought you a top selection of the best Z-Wave outdoor cameras in 2021.
Nexia Home WCO100NX N N SL Outdoor Camera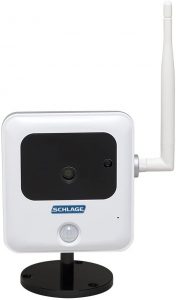 White and black weatherproof built that runs in temperatures from 14-133 ⷪF
Sturdy design 4.1 by 3.7 by 1.5 inches
  Maximum resolution of 640 by 480 at 30 frames per second
50-foot daylight viewing range
Eight infrared LEDs
The front of the camera has a lens, a light sensor, a Passive Infrared (PIR) motion sensor, and a power LED
Wi-Fi antenna is attached to the right side
Compatible with Z-wave
Ethernet port and a power port
Screw-in receptacle to attach the camera to its stand
The Nexia Home WCO100NX N N SL Outdoor security camera hits the top of our list. 
This smart camera comes with Z-Wave built right in through its Nexia Home Intelligence system, which is one reason why this one is our top-rated Z-Wave security camera. 
Nexia Home smart security camera gives overall benefits that you look for in z-wave outdoor cameras, such as it is sturdy and waterproof, which is amazing.
The range this smart camera offers is excellent, so you can be 100% sure of the safety while installing this camera anywhere outside your home. 
The in-built Z-Wave perk enables you to view live videos through any smart device connected to the internet, such as smartphones, tablets, or laptops. 
This is a great device to be aware of any movement around your vicinity from anywhere you are. Ethernet cable, a power adapter with a 118-inch extension cord, an install guide, and mounting screws are included with the device.
The infrared functionality is very effective, especially in winters. As the nights are darker and longer, this feature will prevent you from keeping an external light on for hours to enable clarity while watching what is happening outside your home.
Arlo Pro 4 Spotlight Camera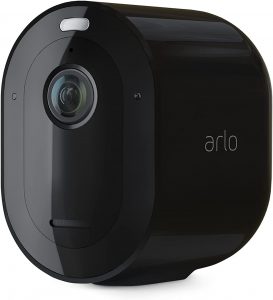 Maximum Video Resolution of 2560×1440

4 megapixels of Image Sensor

2k, 1080p, 720p video quality modes

Auto Tracking, Zoom-in, HDR, and H.264, H.265 Encoding.

Compatible with Z-Wave via the internet

Enhanced hearing and speaking functions with 2-Way audio.

Visibility in color at night. Enhanced Night Vision.

160-degree diagonal lens field view

1/3″ of Sensor

6500K,42Lux@1M of the spotlight

 

Accurate Motion Detection
The next best z-wave outdoor camera is the stylish Arlo Pro 4 Spotlight security Camera featuring high-resolution and weather resistance. 
This advanced model of the Arlo Pro camera series will enable you to capture motion-triggered videos while casting a scintillating light on any moving object around your vicinity.
The installation of this camera is simple and fast. This smart camera delivers a comprehensive picture quality in 2K with color night vision and an intelligently accurate motion detection system. 
The Arlo Pro 4 stands for our Editors' Choice award for outdoor security cameras. 
The Arlo Pro 4 is compatible with Z-Wave and can be easily attached to your house or any other kind of structure with the help of the magnetic mount that comes with it. 
You can even buy a screw-in mount if you want a much more adhesive setup. You also get mounting hardware, a magnetic USB charging cable, and a battery pack in the box.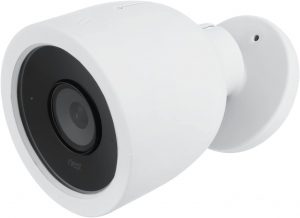 1080p HD + 8-megapixel resolution with 4K image sensor

Operates in temperature from 40° to 113°F (–40° to 45°C) IP66 rating

130 degrees field of view

Compatible with Z-Wave

Indoor AC power outlet

High-power 850 nm infrared LEDs for great night vision

Dimensions: 5 in. x 3.17 in. x 3.17 in.

Weighs about 20 oz
The Nest Cam IQ Outdoor is one of the most sophisticated security outdoor cameras on our list. 
We highly recommend this one if you want a valuable monitoring service. The Nest Cam IQ is significantly efficient with its high-class features, such as a 4K image sensor, which lets you zoom in through any picture in its area of viewing. 
It even follows a person if they move around that yard to capture their face in the best quality.
The Nest Cam IQ Outdoor camera combines the great features of IQ Indoor and Nest Cam Outdoor to build one of the most efficient outdoor security cameras in the market. 
It works great with Z-Wave. This smart outdoor camera offers everything it advertises. Nest cam is a weatherproof security camera that gives high-end picture quality, combining 1080p HD resolution with a 4K image sensor and HDR. 
It comes with high-class features such as 'Supersight' and facial recognition into an aesthetically pleasing design.
Nest avoided all the visible power cables with the new model and introduced a cleaner concealed cable design. 
We are thrilled about the new design but still quite disappointed to discover that the AC power adapter is only built for an indoor power outlet, making it weather prone. 
If you need to install this device properly, you will have to drill holes in your house.
A YI Security Outdoor Smart Cam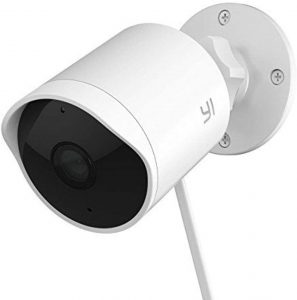 High resolution of 1080p and with 20 fps quality recording

Operates in temperatures from 5 ⷪF-122 ⷪF

2.4 GHz Wi-Fi connection

110° wide-angle field of view

Compatible with Z-Wave

12 LEDs (850nm) high night vision

IP65 Waterproof rating

4X Image Zoom-in
YI Home Camera 2 is one of the best-selling under-budget Z-Wave compatible security cameras in 2021. 
The YI Outdoor Camera is the latest addition to the YI family, the only camera designed to be mounted outside. It can withstand all kinds of weather conditions.
 The YI Outdoor Camera gives an extremely efficient performance and offers much better features and specifications than other outdoor security cameras in the market. 
This smart camera offers a high-definition resolution of 1080p with 20 fps video recording, which is great to get a clear picture. The YI security camera comes with a 110° wide-angle field of vision, which will give you a great view.
 This security camera also features two-way audio, letting you hear whatever happens outside around your property and even communicate with anyone within the view. 
We did experience some crackling in the audio during our testing, which made it difficult to use, but after a while, it worked fine.
VistaCam 1101 Outdoor Camera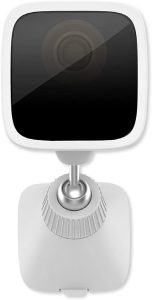 Full HD video (1080p) for fine recording and clear images

Great motion and audio detection

Night illumination with built-in infrared LEDs

Wide 140-degree angle field of view

Compatible with Z-Wave

POE locates the camera to a greater distance from your router

Comes with a 16-foot cable

Weatherproof IP66 casing

In-Built microphone for clear audio with video

In-Built backup memory up to 8GB

H.264 and MJPEG compressed video streaming

Simple installation
VistaCam 1101 is one of the best super-affordable outdoor security cameras. If you are looking for an inexpensive security camera with regular significant features, then this is the one for you. 
This outdoor camera delivers you full-HD 1080p video for a clear view and fine details. The setup, too, is quite simple and quick via a one-cable attachment to the closest indoor power outlet. 
You can place the VistaCam 1101 anywhere, such as at your entrance or deck, porch, garage, parking space, and so on.
This camera features infrared night vision and a day/night sensor, enabling you to see in total darkness. 
You can see whatever that's going on outside from anywhere on your browser, tablet, or smartphone. However, the battery is required to be changed every other day or two. 
The Power over Ethernet supplies power to the camera over the same cable that connects it to the Wi-Fi adapter. Just plug the adapter into any outlet and operate one single, standard Ethernet cable from the adapter to the camera.
The VistaCam 1101 Outdoor camera is the most versatile device compatible with Z-Wave in our list of security cameras. You can manage from anywhere you are whenever you need to monitor what's going on in your premises.
Conclusion
Security Cameras have become the essentials. You will need a Z-Wave camera for monitoring the events and motions around the premises of your home or office even when you're not present there. 
It'll be even more efficient if you can mount them in such places where others cannot see them. Buying cameras with the features mentioned above will ensure the overall protection of yourself and your house or office.
Cameras that cater to your requirements, such as recording and playing back in different devices like laptops or smartphones, are better as it becomes easier to decode all the data. 
The buyers' only major difficulty is choosing the best amongst the wide variety of different models in the market that have intimidating qualities. 
Our detailed list of best Z-Wave outdoor cameras 2021 would assist you in picking a Z-Wave camera that meets your standard just the right way.