Trane is one of the world's leading brands when it comes to air conditioning systems and solutions. 
With the advent of the smart home revolution, they venture into creating smart home devices as anyone would expect. 
Some of their thermostats are smart thermostats using the Z-Wave communication protocol. So, if you're looking for a list of Trane Z-Wave thermostats, then this one's for you. 
Yes, plenty of Z-Wave thermostats are in the market, and Trane is just one of them. However, thermostats have different features, like how many stages of cooling and heating they support. So, if you are leaning towards Trane for your smart thermostat using Z-Wave technology, hopefully, this will help you. 
List of Trane Z-Wave Thermostats
Finally, here's the list of Trane Z-Wave thermostats for you to see.
1. TRANE ComfortLink II XL1050 Thermostat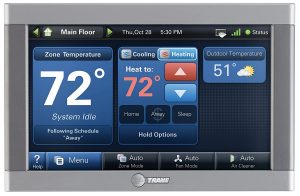 The new and advanced Trane ComfortLink II XL1050 thermostat uses the built-in Nexia Bridge technology to transform the average home into a smart home.
It controls every environmental aspect of the house from anywhere in the house through smartphones, tablets, or laptops.
ComfortLink is made to monitor and manage temperature levels and humidity remotely. 
The fan and compressor get triggered at once if the sensor detects any unusual motion that is unfamiliar to the program you set. It is very extremely convenient to control with its touchscreen interface along with the built-in Nexia Bridge.
Trane ComfortLink enables monitoring of every area in the house with the help of a zonal control facility. 
The Nexia system allows you to monitor temperature levels and humidity and over 200 smart home devices like doors, locks, and light bulbs. It is compatible with Google Home and Amazon Alexa.
Key Features:
Zoning control that enables adaptation of functions and requirements of every zone

WiFi connectivity

 Programmable up to four-time frames within seven different days

Efficient Touchscreen

Service reminder alerts

It comes with a humidity sensor

Remotely accessible through smart devices via the Internet

 
2. Trane 14942771 Thermostat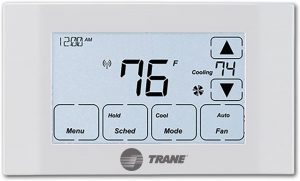 The Trane 14942771 thermostat is one of our personal favorites in our list of testing Trane Z-Wave thermostats.
This one is also compatible with Alexa, which implies it can be conveniently controlled through voice commands.
The 14942771 thermostat comes with the remote access that can be programmed to up to four different schedules. 
Voice-control compatibility with Alexa has made things quite convenient. However, the cooling stages come with only one level.
Since it has remote access, this thermostat saves significant energy compared to those who need computers or other smart devices to be controlled.
 It is compatible with Z-Wave on a 908.42 MHz frequency with the Nexia System. Buyers should ensure a 24 volt or HVAC system connected with the control during installation for the thermostat to run efficiently.
The installation process 14942771 Trane thermostat is extremely easy, taking about 30 mins to be up and running. The hot wire HVAC system needs to be connected to the main control for the thermostat to respond to the signal.
Key Features
Alexa-compatible

Monitoring and adjusting the temperature via remote access

Compatible with Z-Wave to be used with the Nexia Home Intelligence

Manual design display

Efficient LCD Touchpad

Dimensions of 6.5 x 4.5 x 1.5 inches

Compact for 10.6 Ounces

Z-Wave RF of 908.42 MHz

 
3. Trane XR724 Thermostat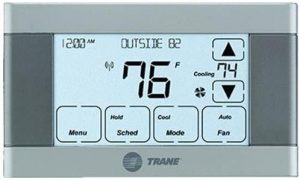 The Trane XR724 thermostat uses Z-wave technology.
While testing this one, we observed that this is extremely simple to use with its built-in WiFi and touchscreen features out of the thermostats mentioned.
 It is highly convenient to monitor and manage the temperature and amount of humidity in your house and less energy consumption.   
Its main advantage is that it lets the buyers monitor their home environment from anywhere. This thermostat can display and send alerts whenever there's a change in the system or the filter.
Key Features:
Programmable for up to 7 days

It comes with four heating and two cooling stages

In-built touch display, humidity sensor, and WiFi
4. Trane Comfort Control XL624 Thermostat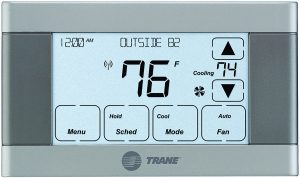 This thermostat requires a Z-Wave hub like Nexia Home Bridge to have remote control access.
Aside from being a thermostat, it also has a humidity sensor. And, it still has some features of XR524 like the filter service and maintenance alerts.
The next Trane thermostat with Z-Wave capability is XL624. This thermostat looks more modern compared to Trane XR524 with its light silver and Gray color.
This is also a programmable thermostat with touchscreen controls. This thermostat is compatible with Trane HVAC systems as well as other brands of standard central HVAC systems. 
Also, it is compatible with Nexia Home Intelligence, and it also includes Nexia Remote Climate Access. You can use it to monitor and control your home's temperature remotely.
Together with a Z-Wave hub, you can monitor and control this remotely through a mobile application. 
It has a screen lock and guest lock-out feature, which can help you protect changes from unauthorized persons. Unlike XR524, this thermostat has a built-in humidity sensor.
It also features a dehumidification setting, and you can also receive alerts of its humidifier service as long as connected to the Z-Wave network through the hub. 
Aside from these features, it also has a one-button energy savings mode. Now, this should help you become more energy efficient at home. Finally, you can upgrade its software.
Key Features
:
 

4.3-inch black and white LCD touchscreen interface

Compatible with the Nexia Home Intelligence system

Alerts can be received on most smart devices

It supports four heating and two cooling stages

A 7-day programmable thermostat which can create up to 4 daily heating and cooling schedules
5. Trane XL824 Thermostat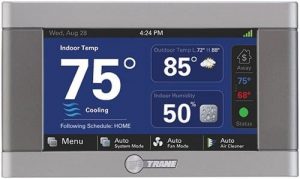 Unlike its predecessors, this smart thermostat has a color touchscreen interface.
You can control the heating, cooling, and energy usage at home with this smart thermostat.
 It features an intuitive and powerful interface that is on display in its touchscreen-colored interface.
The Trane XL824 thermostat is yet another highly convenient item on our list. A highly programmable thermostat with an in-built Nexia Bridge. The touchscreen control shows the latest features in climate control technology.
Not only does it give you control over your home's temperature, but it also notifies you when you need to change the filter or schedule routine maintenance. 
It is compatible with virtually all conventional (gas/electric) heat pumps and dual fuel systems. This thermostat has a 4.3″ HD color touchscreen interface. Trane XL824 is a 7-day programmable thermostat.
With this thermostat, you can create up to 6 daily heating and cooling schedules. XL824 supports up to 2 cooling stages and five heating stages. It also supports WiFi (802.11 b/g/n or a wired ethernet connection) and a display for indoor relative humidity. 
You can upgrade the software for this thermostat as well. This also features a 5-day weather forecast and weather radar. XL824 works well with Amazon Alexa, and it is "Nexia More Than Connected" certified. 
Key Features:
 

WiFi or Ethernet Connectivity

 

4.3″ Diagonal Coloured touchscreen display

Programmable for up to 4 schedules a day, seven days a week

Virtually compatible with all the Heat Pump and Dual Fuel systems

Five heating stages and two cooling stages

In-built Nexia Bridge and Z-Wave Bridge
The Trane Z-Wave Thermostats Buying Guide
Now, you've seen the Trane thermostats, which use Z-Wave technology. If you think that any of these thermostats fit your home, you should at least read this guide before you buy any of them.
We hope that this will help you give some guidance. We believe that you should consider these factors before you take any of these Trane Z-Wave thermostats. 
So, let's discuss each aspect and why you should consider them.
Support (Existing HVAC System)
Think about your existing HVAC System. Please note how many heating & cooling stages it has. Do the features of the Trane thermostat you are looking at support your existing HVAC system?
There are several ways for you to know, including research online, reading manuals, and reviews. 
But the best resource is the support personnel of Trane. They should answer you and give you details if the thermostat supports your HVAC system at home.
Compatibility (Smart Hub)
These Trane Z-Wave thermostats are connected to Nexia solutions, especially the Nexia Bridge hub. 
Like XR524 & XL624, they need to connect to a Z-Wave hub like Nexia Bridge for you to have remote control over your thermostat.
If you are using Nexia at home, then this is the perfect scenario for you. However, if you are not using Nexia, check if your existing smart controller is compatible with the Trane thermostat.
One way to know this is to read reviews and look for users using a similar smart hub. 
Also, you can ask the Trane support personnel, but they might want to convince you to have Nexia. 
Nexia has these subscription models to connect other smart devices to the Nexia Bridge so, if you have other smart hubs already, then better to ask if you chose the Trane Z-wave thermostats that are compatible with it.
Your Requirements/Needs
Aside from all devices & technical requirements, you are the one who needs this smart thermostat. 
It would help if you thought about the requirements, you are looking for a smart thermostat. Are you looking for a thermostat on the budget? Do you have anything new regarding your home HVAC system to change or to add?
You can check if a Trane thermostat could provide you this new feature easily without so much trouble. 
The most important person to ask is yourself. What are you looking for in Trane Z-Wave thermostats? Match your needs with the features of the thermostat and see if they fit.
Read Reviews
One of the best resources to learn more about anything is to read reviews from other users. 
With it, you will know what their experiences are regarding the product. And, you will know if the product is good for you if you see that other users with the same needs as you are good with the product.
Trane Z-wave thermostats' reviews will be helpful for you to learn more about the devices. 
The details that are not usually in the product descriptions and manuals are often small but helpful information for a buyer. So, check the product details and features. Then, read reviews of the product.
Trane Z-Wave Thremostats: Conclusion
Hopefully, this list will help you identify which thermostats from Trane support Z-Wave technology. 
And, also the guide we put for you can hopefully provide useful insights before you buy. 
After all, we only hope that we get the best out of your money and provide value to you.
If you think you need something else, other great Z-Wave thermostats could provide you the features you are looking for. 
Most of the time, thermostats have different features, and that you might find yourself looking for other options. 
However, if you are looking for Trane Z-Wave thermostats, we hope this list will help you find and get what you need.