This article can help you control your everyday life with the Harmony Hub alternatives. A smart home hub allows you to connect to nearly all devices and appliances at your home.
You can influence each aspect of your daily routine, work or otherwise, with these remote controls and hubs with a simple touch of a button! 
Or even with a voice command now, the future is here!
We are a group of experienced tech reviewers who have used nearly 15 of these alternatives to compile the best of the best below. But first, let us answer the most anticipated question.
Why do we need a Harmony Hub Alternative?
Harmony Hub Alternatives are needed because the original Harmony hub did not meet performance, reliability, and functionality expectations.

Harmony Home was a disappointment for many people as it often didn't work to control all their home electronics from one device. It also had limited compatibility with other products.

The Wi-Fi connection on some devices like speakers or cameras became spotty when more than two were connected at once, making using them together frustrating and unreliable. 
The Hub also had limited functionality. For example, there were no built-in ZigBee and Z-Wave radios, which meant Harmony Home couldn't control devices that use those protocols like smart light bulbs or home alarms systems without buying a separate device to act as the go-between. 
Thankfully, there are plenty of alternatives to the original Harmony Hub on the market today from manufacturers such as Samsung SmartThings, Wink+, Amazon Echo Plus, etc.
If you want a Harmony Hub alternative but are confused about which to choose, fear not! First, read on to find all the features and comparisons between our picks. Then, you will find the best one that suits your fancy!
List of The Best Harmony Hub Alternatives: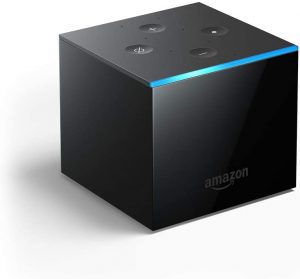 Fire TV Cube is the best alternative for Harmony Hub in the market; the Fire TV Cube has an easier installation process with excellent integration and control options!
The Fire TV Cube is by far the best Harmony Hub alternative.The price of the Fire TV Cube is almost half of Harmony Hub. In addition, it is integrated with both Amazon Echo and Fire TV 4K Streamer.
You can control all your smart devices and home theatre system with just voice commands. 
It can display lyrics of the songs you prefer and name the actors of your favorite movie. Anything you want, Fire TV Cube can show you.
The Hub can work without the remote control so that you can use multiple devices all at once. 
It comes with the all-new Amazon Fire version and Amazon Fire UI. This allows you to make profiles for your loved ones and keep track of their favorite shows and recent watch lists, like Netflix.
The thing that sets Fire TV Cube apart from Harmony Hub is that it does not have any additional expenses and is much easier to learn than Harmony Hub. 
The Fire TV Cube also invites you to set your morning ("Good Morning") and night ("Good night") routines similar to Harmony Hub.
You would be pleased to know that the long-time fight between Amazon and Google is over, so now you get Youtube integration in this device. So stream everything you want from this exceptional hub and remote control set now!
Features: 
Integrated with Amazon Echo and Fire TV 4K Streamer
Visual Version of Alexa included
Fast and easy voice commands a response 
Amazon Fire version and Amazon Fire UI
Good Morning and Good night routine 
Also integrated with Youtube
2. Samsung SmartThings Hub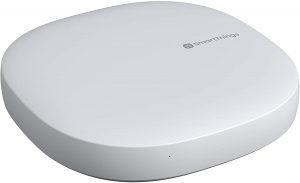 The Samsung SmartThings Hub is a great alternative to Harmony Hub with its wireless feature and built-in camera system.
Also, you can control all your devices with both Amazon Alexa and Google Assistant.
The Samsung SmartThings Hub is very similar to the Harmony Hub. It's an exceptional device that can connect and control your TV, sound, lights, thermostat. 
The best part about this system? It works with Amazon Alexa, so you get voice commands from either one of these devices!
You can customize the Hub to your liking with SmartThings mobile app. In addition, this Hub comes with wireless technology for controlling all your electronics, so you don't have any wires coming down from the ceiling or running across the house.
The Samsung SmartThings Hub is compatible with both Google Assistant and Amazon Alexa, a unique feature for a hub to have.
 Like Harmony Hub, it can also set up schedules customizable by the user, anything from your shows, movies, or even the lights in your room. In addition, SmartThings Hub has a built-in camera so you can place it in your living room, kitchen, or bedroom.
Another great thing about Samsung SmartThings Hub is that it can work as a security alarm system. If you're not home, and someone breaks in–you'll get an alert on your phone telling you what's going on!
You can find out more about Samsung SmartThings Hub on the SmartThings main website.
Features:
Works with both Google Assistant and Amazon Alexa. 

24 hours of video recordings with no need for external cameras or a DVR. 

Voice commands for lights, thermostats, and more.

Wireless technology for controlling all your electronics.

Has a built-in camera.

You can set up schedules.

Also has WiFi capabilities to connect with other devices in your home.
3. Caavo Control Center Smart Remote

Caavo Control Center Smart Remote is the most versatile Hub out of all the devices listed here.
It is a fantastic Harmony Hub alternative, and you can do anything from streaming YouTube to playing video games from this device.
The Caavo Control Center Smart Remote is a whole lot of things, all in one. It can work as a streaming box, cable box, and even a blu ray player. 
This Hub allows all the offers like those listed before them and is compatible with Apple products, unlike others. 
You can also use voice commands via Google Assistant or Amazon Alexa for everything from turning off lights to playing videos or changing channels.
There is no need to worry about setting up many different remotes anymore since it is all conveniently in one device! You can connect your gaming consoles and sound system, and TV settings all together with the 4 port HDMI switch that comes with Caavo Control Center. 
The installation process is a bit difficult but overall manageable. Caavo Smart remote is one of the most versatile remotes out there. 
You can stream Youtube, watch apple TV, play PS on your big screen, all with the touch of a button! 
Learn everything about Caavo Control Center Smart Remote in more detail from their main website. 
Features:
Integrated with Google Assistant or Amazon Alexa for voice commands

Most versatile remote

Wireless technology lets you control all of your electronics

Equipped with 4 port HDMI switch

Compatible with Apple products

You can use YouTube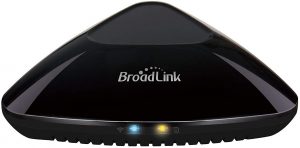 Broadlink RM Pro is a decent competitor for Harmony Hub.
It offers IR (infrared) control for devices that don't support Wi-Fi/Bluetooth connectivity.  
For the most part, Broadlink RM Pro is a competitor to the Logitech Harmony Hub. However, it has many of the same features and some that even Harmony Hub does not offer.
Broadlink RM Pro can do everything from turning on and off your TV and set-top box, adjusting volume levels, changing channels; you name it! 
These functions are accessed through an Apple or Android app that communicates with a BroadLink device hooked up via HDMI cable to your TV. 
The IFTTT support allows you to program your BroadLink RM Pro with custom commands based on triggers that suit your needs. 
For example, if you want the lights turned off every day at 11 pm when your phone is out of range but turn back on automatically at sunrise, you can set this up using IFTTT!
The unique thing about this Hub is that it offers IR (infrared) control for devices that don't support Wi-Fi/Bluetooth connectivity like BluRay players, Xbox One consoles, and more.
You can learn more about this product at the Broadlink International main website.
Features:
IR Support

Control of TV/Set Top Box, Audio System, and Lights from one app

Built-in IR Blaster for devices without Wi-Fi or Bluetooth capability (BluRay players, Xbox One consoles)

IFTTT support

Compatible with both Apple and Android devices

No limits on commands sent in the app

Can control up to 40 different BroadLink RM Pro's (sold separately) at one time.

Upgradable firmware is available for free download from the website.
How to choose the best Harmony Hub Alternative?
Compatibility: The receiver has to be compatible with the device.
Connection: The connection between both devices needs to be strong.
Remote Control: Remote control needs to operate everything on the home theater system well and accurately without lag time.
Streaming: Streaming video from online sources like YouTube, Netflix, or Hulu need to work flawlessly on these options as well.
Price/Value: Finding something that gives you the best bang-for-buck deal should also factor in when looking into a Harmony Hub alternative option.
Live TV: A great alternative option needs to have live TV and DVR set up, so it is like the Harmony Hub experience in some ways.
How far can the Samsung SmartThings hub go from my TV? 
It has a range of 30 feet, which is great for an entire room. If you want to control your entertainment system wirelessly and don't have access to Wi-Fi or Bluetooth, then this remote would be perfect for you.
Why do I need the Caavo Control Center Smart Remote if I already own a Roku?
This device does more than turn on & off devices; it's also an interface that gives full functionality over all the different components in your home theater set up (at least when they're connected).

And as long as there are no audio cables involved, any soundbar will work with this remote, providing superior audio output.
Can I use Alexa to turn on my TV? 
No, but there are other ways for you to control your entertainment system. For example, you can purchase the Fire TV Cube or Caavo Control Center Smart Remote.

Both have voice commands so that you can say "Alexa, watch The Office" when sitting in your living room without getting up!
Can I get an Echo Show with a touchscreen as well?
Yes: It has Amazon's popular screen-based assistant Alexa embedded into it right from the start.

This means no more listening for instructions and navigating through menus; she'll be able to do all of that just by talking back at you (plus she recognizes faces)!
This article covered the Harmony Hub and alternatives to it. If you're looking for a hub that has voice control, then check out Alexa-compatible smart home devices or see if your device is compatible with Google Assistant/Apple's Siri. 
The crowd favorite Harmony Hub alternative is Fire TV Cube. The SmartThings Hub is easy to install and has many features. 
The Caavo Control Center Smart Remote is the most versatile Hub out there. Finally, you can get Broadlink RM Pro if you like a product with lesser features but is extremely efficient overall. 
If you want to know more about Harmony Hub, visit The Best Wink Hub Alternatives for Controlling All of Your Devices. 
In addition, if you are facing any problems while using Harmony Hub, you can check out How To Fix The Issue Of Alexa Not Discovering Harmony Hub?
Choose among the devices we showed above and start on your smart hub journey now!