Are you wondering if the Keen Smart Vent or the Flair Smart Vent is better? Here's where we have compiled our findings on Keen vs. Flair Smart Home Vents.
Smart vents work by adjusting the air circulation in the HVAC system as per the individual's needs. 
For example, the smart vent will raise the air pressure whenever a space needs a specific amount of airflow. On the other end, smart home vents can assist in distributing surplus airflow to another room when a space has far too much.
Here, we have compared and contrasted the properties of Keen vs Flair Smart Vents. 
These assist customers in conserving energy while also providing the primary advantage of comfort. In addition, each gadget is one-of-a-kind and reasonably priced for home usage.
| Specification | Flair | Keen |
| --- | --- | --- |
| Types of vent | Metal | Plastic |
| Connection | Wired or wireless | Wired |
| Battery life | AC batteries for four years | 4 AA batteries for two years |
| Other required devices | Puck | Smart bridge & temp. sensor |
| Overall Ratings (out of 5) | 4.6 | 4.3 |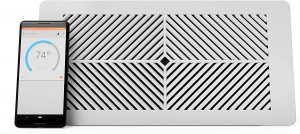 The Flair vents are one of a kind. These vents are made of steel, in contrast to their standard plastic counterparts. They could be battery-powered or connected to 24VAC electricity.
Flair's smart home vent solution tends to be among the most intriguing. It offers a few distinctive characteristics that might set this apart from the competition. Smart vents and Pucks make up the Flair smart home system.
The flair vent is operated by a puck and is, therefore, more robust than most other vents due to its superior metal construction. 
It offers both wired and wireless connectivity options. In addition, it has a long-lasting battery duration that is two twice that of a regular phone, up to three to four years.
When put in a high-airflow space, these smart vents will redistribute access airflow. They could also be used to alleviate temperature issues in low-airflow spaces.
To function, the vent would require a puck. It's a smart home hub that includes a motion sensor and a smart thermostat. 
The Puck permits the connecting of other smart vents, allowing users to create multiple zones. For example, the motion sensor can tell if someone is in the space or if it is empty and adjust its settings accordingly. 
Even while you're not at the house, the mobile application helps to manage your gadgets. 
Temperature, humidity levels, and light intensity in spaces containing Puck may be recorded and shown. It features a 'schedule' function that enables users to create temperature restrictions for seven days at any moment.
If consumers don't really want to deal with the inconvenience of using a smartphone to manage temperature, they may revolve the gadget.
Another benefit is the ability to control the temperature using a voice assistant, such as Amazon Alexa as well as Google Assistant. 
Ecobee sensors and a wide selection of thermostats and air conditioners are all interoperable with the Flair smart house vent. 
In addition, because of the open API and overwhelming support from techies, fans may integrate it with other smart home devices. 
Flair's open API provides limitless possibilities for advanced users who enjoy writing code and customizing instructions to their liking. 
The Flair Pucks are particularly one-of-a-kind. Each room has its own Puck, which serves as a devoted thermostat.
It also features an infrared blaster, allowing it to operate window air conditioners and mini-splits.
Every system necessitates the installation of at least a single gateway Puck. Every one of the house vents and any left Pucks will be connected to WiFi via the gateway. 
With the possibility of a battery power supply, extra Pucks may be installed as required.
Flair recognizes that connectivity is one of the most important aspects of a successful smart home solution.
Ecobee, Nest, and Honeywell Lyric smart home thermostats are all suitable with Flair's technology. 
It also connects with Google assistant And Amazon Alexa so that you can monitor or regulate the temperature using your voice.
Flair is particularly well-suited to Ecobee. For example, flair can utilize Ecobee's sensing devices, and Ecobee can also use flair Pucks.
Best features
A one-of-a-kind smart home vent and wirelessly diffused smart thermostat technology

In comparison to other rivals, it has double the battery capacity.

It can be connected (if need be) to eliminate the need for batteries.

Excellent third-party compatibility; compatible with Samsung SmartThings, Google Nest, Ecobee, and other smart home devices.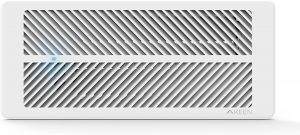 Pressure and temperature sensors are installed into each Keen vent. Backpressure is monitored by the pressure sensors, which ensure that the vents may not overwork your HVAC ventilation system.
A centralized single, smart vent or several smart vents are considered sufficient to substitute unequal airflow circulation with proper air balance across the house. 
Users can employ vents in a few spaces, to begin with. However, vents should be used in 30 to 50 percent of the building, according to Keen.
The next critical decision is which area you must concentrate on finding an effective remedy. The sensible thing to do is to figure out which room needs to be repaired. 
The vent in those rooms with more heating or cooling or those that are frequently underutilized is shut, redirecting the circulation airflow to other places where it is required. 
As a consequence, the building's temperature becomes much more consistent. 
A Smart Bridge is required for the Keen Smart Vent to function. It is recommended to utilize two smart home bridges be used. 
The goal is to serve as a conduit between the smart home vents and Keen cloud.
The first bridge will serve only as a bridge when you have two, and the second will function just like a wireless signal repeater. 
Certain obstructions might prevent radio transmissions from approaching your vent, and this is where repeaters come into play. It offers a constant connection and a prolonged battery life.
The Keen, smart home bridge connects the Keen vents with your network. They communicate via Zigbee, a commonly utilized smart home automation standard. 
The Keen vents are driven by 4 AA batteries and also have more than two years of battery life.
Keen Zoning is just another characteristic that enables the transfer of surplus airflow from over-conditioned areas to under-conditioned areas. 
In addition, customers may personalize routines, set the temperature of particular rooms, and control other smart devices via the smartphone app.
Users may set periods when the space would be unoccupied or filled, also when the vents should start or stop, to monitor the temperature directly. 
The pressure sensors also monitor backpressure, ensuring that each vent does not overload your HVAC air conditioning system.
Best features
Advanced each room management with auto-balancing feature; the average home may require 4 to 8 of these. Smart vents that are very effective.

Google Nest, Samsung SmartThings are just some of the third-party connections available.

2+ years of battery capacity

With the Zigbee protocol, wireless communication is supported.
Conclusion: Keen vs Flair
When comparing Keen vs Flair, it's evident that both of these are winners in respect of their primary function, which is to keep airflow throughout the home in terms of maintaining the appropriate temperature. 
On the other hand, Flair smart vents would be the better choice if we had to choose.
Because of their metallic surface, Flair vents are much more robust, whereas Keen vents are made of easily broken plastic. 
Flair's battery life lasts for four years, whereas Keen's lasts for two. Flair can be wired as well as wirelessly installed, whereas Keen can only be installed wirelessly. 
The Puck has additional functions not found in Keen, such as the presence of a motion detector.
When compared to Keen, Flair's tech support service is deemed to be quicker and more accessible. It may also be used as a remote control. 
Puck's manual feature enables youngsters and visitors to turn it to a certain temperature. 
The quality level, on the other hand, comes at a premium price. Upgrading a number of vents with pucks will be extremely expensive.