Do you want to know which are the best Z-Wave Flood Sensors for 2021? Check out this guide on tested Z-Wave flood sensors to get your answers.
The smart flood sensors have turned out to be an amazing advancement device for identifying any leaks or overflows. 
Once detected, the sensor starts sending alerts on your smart device, enabling you to control it from anywhere you are. 
It can be daunting to decide which one you should pick. That's why we have rounded up the top-rated flood/water/leak sensors of 2021.
We tested these Z-Wave flood sensors with easy setup, fast alerts, an intuitive app, and the feature to shut off the water supply on your command with an additional device make these the best ones we've ever tested. 
These are the best Z-Wave flood sensors 2021, and we have tested and ranked them in order:
Top-5 Best Z-Wave Flood Sensors 2021
| Rank | Model | Highlight |
| --- | --- | --- |
| 1 | Aeotec Water Sensor 7 Pro: Flood/Leak/Safety Sensor | Best compact and high class featured water sensor |
| 2 | Fibaro Flood Sensor: Z-Wave Plus Water Leak Detector | Best smart water/leak sensor for uneven surface |
| 3 | Samsung SmartThings Water Leak Sensor | Best Hub-Based water sensor |
| 4 | Ecolink Z-Wave Plus Flood Sensor: Freeze/Leak Sensor | Best versatile water sensor |
| 5 | FortrezZ Wireless Water Sensor: Flood/Leakage Sensor | Best budget Flood sensor |
1. Aeotec Water Sensor 7 Pro: Flood/Leak/Safety Sensor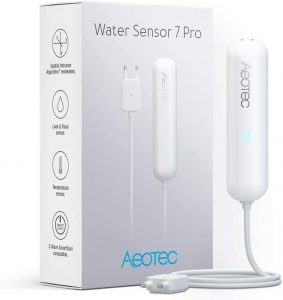 The Aeotec ZWA019 7 Pro is a successor to an already flawless device, Aeotec water sensor 6.
Building on its functionality, Aeotec Water Sensor 7 Pro comes with a stainless-steel detection tip for detecting minuscule water levels as minimum as 0.5mm/0.02.
Large or minimal, 7 Pro is highly efficient to enable monitoring any accumulation or anticipated floods like damp areas or sump basins. 
Water Sensor 7 also sends you alerts towards the water source you've left on before it's too late.
Water Sensor 7 Pro doesn't just detect the overflow of water. Once you connect it to a Z-Wave automation system, it will take protective measures to minimize the level of damage caused by leaks, bursts, drips, leaks, or some other kind of water flow.
When we tested this device with a Z-Wave system, we observed that Water Sensor 7 Pro has highly accurate protective responses. However, we were baffled by its compatibility with Z-Wave automation software, including Smart Home Hub and AutoPilot.
It allows relative humidity monitoring in a room between 0% and 80% with a variance of only ±3%. 
With the help of real-time humidity monitoring, Water Sensor 7 Pro can manage a room's air quality automatically by activating extractor fans in bathroom spaces, humidifiers, and dehumidifiers, among others.
Things to Consider:
Z-Wave 3-in-1 sensor monitors the presence or overflow of water, temperature, and humidity

Detects the presence of water in secured locations and insufficient water levels in containers

Enables on/off commands to Z-Wave connected pumps, valves, etc

Built-in humidity and temperature sensors

Reports real-time environment conditions

Monitors potential for damaging mold spores

using aërQ technology

1 × 1/2AA (ER14250) battery-powered

Operates on a temperature from -4° to 113°F

Ranges up to 130 ft
2. Fibaro Flood Sensor: Z-Wave Plus Water Leak Detector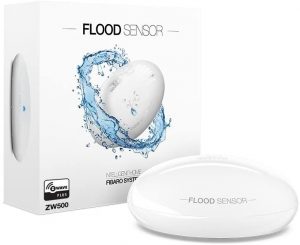 The Fibaro FGFS-101 ZW5 FGFS101ZW5 is one highly compact device. It is convenient enough to fit in your palm as it is less than 1¼ inches.
This handy design enables this device to fit under appliances and in little spaces where water leaks usually occur.
Some of the other conventional water sensors that we tested often sat somewhat above the surface. 
Fibaro, on the other hand, comes with three gold-plated legs that perfectly rested on the ground. This type of design greatly benefits those with wider fields who need greater coverage.
Fibaro flood sensors also detect temperature conditions of a particular area. If a spike or drop in temperature is caused by overheating, freezing conditions, or fire, the sensor will start sending signals immediately. You can also connect the sensor to an alarm system.
The motion sensors make you aware that your Fibaro has been tampered with. For example, if there is an overflow, the sensor will float and run and keep setting the alerts off. 
This model is compatible with Z-Wave even if you want to use it with Apple HomeKit.    
Things to Consider:
Compatible with Z-Wave and Z-Wave Plus Controllers

Features Z-Wave network security mode with AES-128 encryption

Indoor and Outdoor installation

The battery serves as an emergency power source when connected to 12/24V DC

Enables theft protection by reporting any tilt to the Z-Wave

Dual operating modes, i.e., flood/temperature sensor and just a temperature sensor.

The alarm is triggered by sound, visual LED indicator, and Z-Wave
3. Samsung SmartThings Water Leak Sensor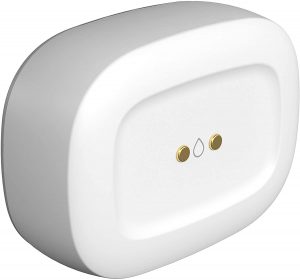 The Samsung GP-U999SJVLCAA SmartThings sensor is yet another small device we have tested.
One highly compact battery-powered sensor can be installed in small areas where a leak might occur. It runs well with the SmartThings hub or any compatible device compatible with the SmartThings hub.
In case of a water leak or a temperature spike or drop, the sensor is activated and starts sending alerts to your smart device. The affected appliance detected by the sensor can be turned off by configuring the SmartThings apps to prevent further damage.
Some of the downsides are compensated by the SmartThings user platform. For example, with the SmartThings app, users can sound an alarm, turn off the flash warning on the lights connected, or even activate a water shut-off valve.
The user platform can also be integrated with IFTTT if the SmartThings ecosystem isn't sufficient enough. For example, through IFTTT, you can set up texts or email alerts.
This device doesn't come with any extension cables to let you detect water in confined spaces. Instead, you will need to plunk the water sensor down as close to the source as you can.
Things to Consider:
Sends alerts whenever moisture is detected.

Z-Wave compatibility set devices to turn on/off as soon as a water leak is detected

Easy indoor installation

Accessible via free SmartThings app

Monitors and controls leak

Monitors temperature and humidity levels

Operating temperature ranges from 32° to 104°F

Wireless sensor, CR-2 battery-powered

50-130 feet wireless range

Compatible with Amazon Echo and Google Home
4. Ecolink Z-Wave Plus Flood Sensor: Freeze/Leak Sensor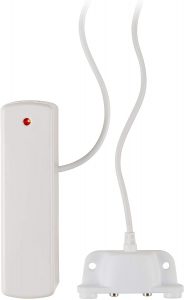 The Ecolink FLF-ZWAVE5-ECO Flood Sensor is yet another battery-powered, highly efficient flood sensor.
The Ecolink is a Z-Wave Plus compatible device and can operate in any standard Z-Wave network.
This sensor introduces an RF communication protocol that enables communication by the sensor with your system in case a leakage or overflow is detected.
In addition, it has a check-in feature through which it contacts the system on an intermittent basis to provide information about its functional state.
The Ecolink flood and freeze sensor features a temperature sensor that tracks temperature triggering a warning at 41F.
In addition, the complementary freeze sensor can be used to send an alert to a thermostat compatible with SmartThings that will turn up the heat whenever the temperature drops. 
Things to Consider:
Freeze warning alert triggered at 41⁰ F (5⁰ C)

Notifies your system within 2 seconds in case of tampering

36-inch probe for quick leak detection

Lithium CR123A battery-powered

Compatible with D-Link, SmartThings, HomeSeer, Vera Edge, Vera Plus, Vera Lite
5. FortrezZ Wireless Water Sensor: Flood/Leakage Sensor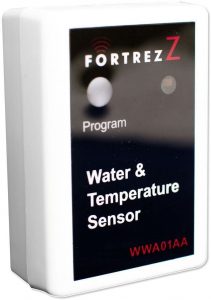 The FortrezZ WWA02AAUSW Z-Wave flood and water sensor is an efficient, high-performing device that will avoid water leaks in confined spaces.
The device's operating temperature can be as low as -10C to +70C with a +/- 2C accuracy rate. 
In addition, this sensor has a great alert sent whenever it spots a water leak. The best part is that it provides an alarm system whenever there is a spike or drop in the temperature against the set point.
You'd be able to receive remote alerts and customize the messages according to how you program the sensor. The messages are sent to the Node ID set on the alarm. If there is a leak, the system can be set again by drying down the contacts.
Things to Consider:
Powered with two alkaline batteries along with LED lights

908.4MHz frequency range

Operating temperature from -10C to +70C

+/-2C accuracy rate

Receives alerts remotely
Z-Wave Flood Sensors Buying Guide
Many sensor brands are serving the actual purpose, but not all of them work the same way. 
Therefore, you need to purchase the products convenient per your lifestyle. We hope this guide makes your decision a little less complex in buying Z-Wave flood sensors compatible with your preferences.
Why is installing Z-Wave flood sensors effective?
Before even thinking about buying Z-Wave Flood sensors, you should consider the purpose of installing the device in your house. Once you figure this out, it'll assist you in looking for the best product according to your requirements.
How to Monitor Z-Wave Flood sensors?
It is convenient to install a sensor that can be easily monitored even when you are not around through your smartphone, browser, and other smart devices. 
Before anything, you should consider the kind of device you already have in your house that you wish to monitor the sensor. Simultaneously, you will have to consider how you want to get your alerts before deciding to invest in them.                 
Where can you buy Z-Wave flood sensors?
As important as the brand name is, the seller always impacts the value of the product. 
It would be best if you were careful about where you make your purchases from. You should perform thorough research regarding the reviews of various sellers and go through the customer feedback.
If the seller is verified and has been getting positive feedback, you safely assume that your money will be well spent. 
Buying from local shops is much safer as that will let you see and check the product physically while you make your purchase. Although when you buy Z-Wave Flood Sensors online, you get heavy discounts.
Z-Wave Flood Sensors or Water Sensors have been one of the essential security automation devices preferred by buyers. 
It assists you in averting accidents caused by water leakage or overflow, or potential flood crisis. So, when you buy a good brand, it becomes very convenient for you to operate it using the relevant information provided.