Anymote vs Harmony – both remotes allow you to take advantage of smart technologies and can be quickly installed to provide you a remote control on your smartphone.
 In addition, these gadgets come with their very own application that links to your smart home network and your smartphone.
There are several smart home hubs available, but so many older gadgets may not always be able to communicate with them over the Wi-Fi network that you want to use. 
Smart remotes were created to address this divide, allowing you to have the managing power of these gadgets and maximize the performance.
We have compared the features, user experience, and performance of the two remotes – Anymote Vs Harmony to provide you a detailed review.
| REVIEWS | ANYMOTE | HARMONY |
| --- | --- | --- |
| OVERALL | 4.3 | 4.8 |
| EASE OF USE | 4.8 | 5 |
| DESIGN | 4.2 | 4.6 |
| SUPPORT | 4.5 | 4.8 |
| FEATURES | 4.3 | 4.7 |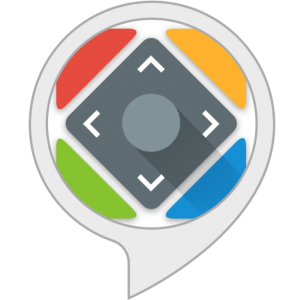 It's the very first generation of programmable universal remote controls that let you operate all of your home appliances from your smartphone.
Anymote remote control devices have been formally discontinued in their production, although you may still be able to find them in stores or on the internet easily.
It has a 200-foot range and can rotate 360 degrees, so you won't have to look for your remote no matter what device you're using.
As a result, you may finally say goodbye to those IR-based remote controls that are required to be directed in the position of your devices, such as your ac unit, television, etc.
AnyMote may not be as user-friendly as the Harmony app. Still, it does borrow a lesson from Logitech's rulebook by allowing you to begin chain instructions that trigger a sequence of actions related to your group of devices.
For example, AnyMote can switch on your Television, adjust it to the channel that your streaming device is hooked into, and adjust your AV receiver to the right source with just a single phrase when coupled with a voice assistant like Amazon Alexa or Google Assistant.
The software connects to the device through Bluetooth, enabling you to operate a variety of various gadgets on your phone. 
The best bit is that the Anymote gadget has LTE and Wi-Fi interoperability, giving you the option to use the universal remote to its highest capacity. 
It's really compact and simple to set up. Anymote is compatible with multiple devices, such as Pioneer, Samsung, and many others.
It's very customizable, to begin with. You have complete control over what each glide, tap, and motion symbolizes. 
AnyMote also features macros, so you can adjust your lighting, change the input channel on your Television, and switch on your sound system with a single click. It's ideal for a movie marathon or a big sporting event.
Anymote has an added benefit in that it not only permits you to manage InfraRed appliances, but it also facilitates you to link it to any Wi-Fi devices, popularly called smart gadgets, and you'll never have to bother over managing them afterward.
So, for example, if your smartphone supports IR, all you have to do is install their application, and you won't even need the gadget after that.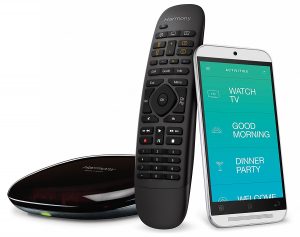 It essentially combines all or most of the Elite remote's amazing features and capabilities into a single product.
If you like the Logitech Elite remote, you'll appreciate the Harmony even more. 
The process would be the same for this one, and if your smartphone doesn't support IR, you may install this in your home and use your smartphone to operate almost all your devices. 
You won't need the device in the future if your phone already has IR built-in.
You also get improved connection and compatibility for a lot more devices, in addition to the excellent quality and design and the Logitech brand recognition, which is unquestionably significant.
Harmony may even be linked to a home theatre system, smart home gadgets, and other devices. 
Through Wi-Fi, RF, and Bluetooth, it can command over 275,000 devices. Of course, you could also use Amazon Alexa and Google Home to connect Harmony very easily.
The gadget mostly responds with multi-control modes. Begin an activity, such as "See a Film," and it will automate all of your devices, including switching on the Television, Home Theater System, adjusting lighting, and much more. 
Of course, you may also alter these routines to make them really relaxing.
Anymote vs Harmony - Which one to choose?
Out of the two, Harmony is a better choice because of the plethora of features it offers, such as easy connectivity, range, option to customize, etc., and also because Anymote has stopped manufacturing its devices.