One such device that has grown in popularity over time is smart lighting bulbs. 
Even though smart home devices and interfaces can link anything in your house, these lights can function alongside such modules or independently and can be managed with your phone.
Smart light bulbs enable you to regulate your home's lighting system by allowing you to manage the lights remotely using a smartphone or smart device such as Amazon's Echo and then have the lights switch on and off on a predetermined schedule.
Which bulb, though, should you purchase? We've reviewed the top-rated smart bulbs, magiclight vs flux, in this post to keep you and your house bright and pleasant for the coming years.
| Specifications | Magiclight | Flux |
| --- | --- | --- |
| Connectivity | Bluetooth | Wi-Fi |
| Voltage | 120 volts | 120 volts |
| Bulb Wattage | 7 Watts | 7.5 Watts |
| Model | Original | Smart Bulb |
| Comparison | Magiclight | Flux |
| --- | --- | --- |
| Features | 4 | 4.2 |
| Lighting | 4.2 | 4.1 |
| Key Specs | 4.1 | 4 |
Magiclight Vs Flux: A Detailed Comparison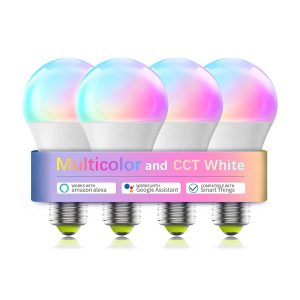 MagicLight is one of the most basic lights available, and it has gained prominence because of its low cost.
The greatest part about this bulb is that it enables ambient lighting and allows you to select the hue of your choosing. 
It has a lifespan of over 20,000 hours and requires just 7 watts. You get to select the hue and intensity of your preference, which is a major advantage, and you can quickly modify it using your smartphone's application.
The main disadvantage of this bulb is it will be Bluetooth operated, so you may have a hard time connecting this to a home automation system if you have one. 
However, because WiFi primarily manages these smart home appliance services, it's something to think about this before you invest.
If you're alright with its Bluetooth operability and want to have a single bulb that can be tethered to your phone and controlled, this would be the right option for you. 
It has a fantastic intensity of 550 Lumens, which should be enough to brighten up any regular-sized space. 
Even if you have numerous lights in your space, you can easily adjust all of the MagicLight bulbs with just a single phone application.
These bulbs may be connected together and customized to be the same hue and turned on and off while using the same control.
 It's a screw-in core style bulb that is commonly used in houses. Thus you might do it yourself. However, if you want something useful but without a lot of trouble setting it up, this is the best option.
After a simple pairing procedure, you may use the MagicLight app to control the light. With the press of a button, you may control a single light or a bunch of bulbs. 
A Bluetooth-controlled color-changing Led bulb may be beneficial in locations where WiFi connection is poor, such as patios or other sections of the house where even the router is not in reach.
 It's worth noting, though, that you'll have to have your phone's Bluetooth turned on when operating the light bulb. This might cause an impact on the phone's battery.
With the MagicLight color-changing Led bulb, you can choose from 16 million colors and make use of additional useful functions such as a schedule or Sunrise and Sunset mode, which are ideal for your early morning and evening routines. 
The bulb is comparable to a 60-watt incandescent bulb when set to full white brightness.
Specifications
It employs a common Bluetooth protocol that is used by many other Bluetooth LED lights. As a result, it is compatible with a wide range of applications.

It doesn't consume a lot of electricity. 

When it functions, the product operates as intended. Colors vary, the lights shine brightly, and there are no complaints.

Since this is Bluetooth and not WI-FI, you can't go beyond approximately 40 feet without it going out of reach to switch on and off.
Customer reviews
Every color you can think of! The mobile application allows you to do whatever you want!

Full RGB color control with extremely vivid colors.

A 7-watt bulb generates 600 lumens (only in white mode, though).

The color option is very dim, with a maximum brightness of 300 lumens. this is really disheartening.

The RGB LEDs are not well balanced. if you use all of them at maximum power, the color ought to be white, but rather you get a very faint purple referred to as "ghost white."
Features
The bulb was simple and quick to install, and the software was simple and easy to download.

Please take photographs of things that have a color you like, and the app will put them into the bulb!

It will even respond to music via the app!

It has a sunrise/sunset function that allows the white lights to gradually turn on or off at a time and length you select.

The music dancing feature is a tad jerky and incorrect.

The app could be a little more customizable.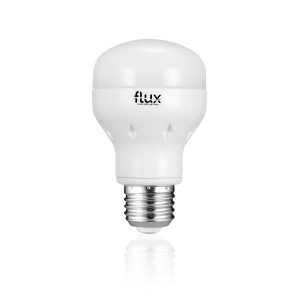 The Flux smart lighting LED bulb is the finest option available. If you're searching for a smart home solution with something out of the usual, this is the right option for you.
The bulb is jam-packed with capabilities, and the greatest part is that it is WiFi-enabled so that you won't have any issues there. 
It also offers the option of selecting light hues and a slew of additional options that we will go through. To begin with, it operates on 7 watts, which is rather energy efficient so that you won't have any issues there.
Flux is a full-featured alternative with a plethora of unique choices and options. It is compatible with Alexa, Google Home, and IFTTT. 
In addition, you may operate this with any application that is compatible with the lightbulb, giving you complete freedom over the lighting in your space. It also includes settings for a night light, dawn wake-up, and much more.
Flux has several additional functionalities that you will like, such as the ability to dance to your soundtrack when you're in the spirit for a celebration. 
Flux features a very powerful RGB bulb that can be combined to produce whatever color light you choose. 
The bulb may also be set to alarm mode, which will wake you up with full brightness in the morning. 
The mic option provides a perfect experience since flux includes a built-in microphone that monitors your soundtrack and adjusts the lights based on the rhythms.
Flux is a low-cost bulb vendor that offers two kinds of color-tunable bulbs. 
Flux Bluetooth bulb is a slightly odd-looking bulb with a black, opaque core that utilizes a Bluetooth 4.0 connection to interface straight to your phone app; no hub is necessary. A WiFi variant of the lightbulb, as well as various other novelty bulbs, are also available.
Flux has packed its app with capabilities, and the control system's interface is surprisingly user-friendly. 
For example, different control dials allow you to choose between the complete color spectrum and various white color temperatures, and five presets allow you to quickly switch between your preferred colors, which is useful if you want to experiment a lot. 
Colors can also be adjusted using a camera capture or existing images.
Specifications
WiFi range appears to be adequate, with a range of 160′ from the Access Point inside to the lightbulb. So, provided your smartphone receives a good signal in the area where you wish to place the light, it should function.

This bulb is well worth purchasing because it is a low-watt energy-intensive bulb with longevity of over a decade.

The bulb is slightly brighter in the white range—enough to substitute a regular bulb, and I'd estimate it's the equivalent of a 75-watt standard, even though it may be closer to 100.

It is a clever idea for a light bulb. However, it does not appear to produce the 40-watt equivalent; it appears considerably dimmer.

It only has 40 watts of power, so it's not that vibrant.
Customer reviews
Very brilliant, perhaps a touch too bright for certain people.

Can switch off bulbs from bed or another room. You may set a timer for when you want the lights to turn on and off during the day (not in 12-hour format).

You may adjust the brightness, hue, and speed while changing colors or strobing.

The warm mode is fairly near to the warm hue of a standard incandescent bulb but a shade whiter. One will absolutely enjoy the color it has on the regular warm setting.

Certain hues are difficult to produce, but the majority are quite excellent.

Even at full brightness, the cool white hue is not as vibrant as you would expect from a 70 watt equivalent light.
Features
Once you've found the correct app, guided setup is a breeze. It works wonderfully with mobile devices, Alexa, and IFTTT.

You may use your phone to dance to music. Colors can be changed (7 color cycles & you can set the pace).

Alarms – you can set the alarm to light to strobe in the morning and have an alarm set for lights to turn on when you get home from work.

Turning on Mic Mode causes the Flux bulb to flash and change color to the beat of the music.

Color cannot be controlled with Alexa integration at this time.

Nothing happens when you swap modes until you rescan for bulbs, and there is no API for Tasker integration.

There is no method to configure or operate the bulb using a computer (unless you use a third-party component).