SmartThings and iSmartAlarm are two newcomers to the DIY home automation security system field. 
They both provide the user more power than previous methods have allowed. You get a lot of the capabilities, and that's something that an exclusively monitored system can provide.
These two solutions are comparable in many respects with the ability to maintain and manage your smartphone or get alerts if you're away. 
We have prepared a detailed comparison of ismartalarm vs smartthings by analyzing their interoperability capacity, the features they offer, and customer reviews.
| Specification | iSmartAlarm | SmartThings |
| --- | --- | --- |
| Type | Wireless | Wireless |
| Environmental Sensors | None | Yes and you can attach third party sensors |
| Home Automation | No | Yes |
| Z-wave or ZigBee Compatible | No | Yes |
| iOS Versions supported | 5.0 and above | 7.0 and above |
| Overall rating | 4.7 | 4.6 |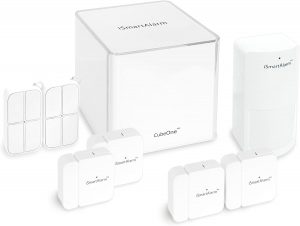 The interface of iSmart is straightforward. It isn't as extensible and reliable because it appears to lack a cellular processor and power backup, but it is simple to set up.
Almost anything you want to secure your house will be included in the package. 
For example, the iSmartAlarm starting set comes with an alarm, two-door or window sensors, a motion sensor, and a subscription to the iSmartAlarm smartphone app.
The iSmart app is similarly simple to operate. When you open the application, you're accosted with a series of large buttons that allow you to arm, disarm, go into the home mode, or set off a panic alert.
You'll also discover a sleep mode if you scroll below. In addition, owing to a recent upgrade, modes may now be customized. 
For example, you may change the settings and modify which devices may and may not activate an alarm. Alerts and the system's alarm may also be customized.
The iSmartAlarm manages and controls the power of the Internet.

The possible options and devices to increase their safety and home automation features are planned.

You are restricted to items produced with their safety system by iSmartAlarm.

No subscription payments or contracts are required for monitoring the system or receiving notifications.

iSmartAlarm iSA3 Preferred Package Home Security is currently the most preferred setup kit.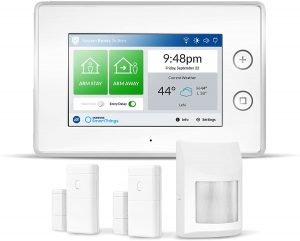 Samsung SmartThings is far more than a security system; it is a powerhouse for home automation.
SmartThings attempts to build a seamlessly integrated system through its SmartThings application, together with scores of various smart home devices and security sensors from third-party sources. 
The Samsung SmartThings hub is all that you actually have to get going.
The SmartThings is a house automation system that is comparable to a home safety system to safeguard your home.

You may add additional manufacturers to extend their reach via compatibility with Z-wave and Zigbee.

That allows you to utilize the quality product to secure your house using the conventional communication protocols for home automation such as Zigbee and Z-wave.

You may regulate and automate electrical items with your smartphone, along with monitoring and getting notifications.

The SmartThings Smarter Home Starter Kit is their top bestselling product.
Do You Require Only A Security System?
Before you begin to consider analyzing these two different systems, you must first establish what you intend to use them for. 
For example, do you want a home security system? Or are you looking for something substantially more input for your home automation?
iSmartAlarm is just a safety system that offers you all the increased security features that safeguard your family and property. 
SmartThings provides reasonable security measures on the other side, but you can do much more than that. It may also be utilized as the main hub and manage all your home appliances.
Which Is The More Secure Option?
SmartThings, as previously noted, offers comparable security capabilities. However, several users have experienced difficulties during power or internet failures and the system failing to function correctly at times. 
Therefore, it is critical for a security system to remain operational at all times.
On the other hand, customers of iSmartAlarm haven't encountered these problems.
 It should be noted that iSmartAlarm is not highly resistant to bugs and problems. Nevertheless, with these two systems, the customers had a fantastic time.
The last point you have to do is figure out your budget. SmartThings is slightly less expensive, but bear in mind that this does not include security alarms or any other accessories. At this pricing, you would only get a hub.
iSmartAlarm, on the other hand, will provide standard security accessories for your home automation while costing somewhat more. 
Therefore, if you opt to get SmartThings, you will not only have to purchase the other products, but the overall cost will also increase. 
In addition, additional sensors and alarms must be purchased. Fortunately, these are already included with iSmartAlarm.
Setup and installation: iSmartAlarm vs SmartThings
The two methods are cable-free and need little DIY capabilities to set up your sensors. 
To configure, connect the hubs in and install the application from the smartphone to finish the basic configuration.
Everything can be done very fast, but it might take a while to become used to the application because neither is straightforward, but both systems update the program often, making it simpler to do so. 
In less than a few hours, the majority of individuals are fully operational.
Sensors for the environment: iSmartAlarm vs SmartThings
Even though these devices are not necessary to safeguard your house from infiltration, you may typically add them to a network if you like. 
These systems can monitor carbon monoxide, pollution, temperature fluctuations, precipitation, etc.
SmartThings allows you to connect third-party detectors into your system and to list those who operate with your app effortlessly. However, iSmartAlarm presently doesn't really contain these features.
Remote surveillance: iSmartAlarm vs SmartThings
These systems are uncontrolled or self-controlled. Therefore you are able to take responsibility for 24/7 system monitoring.
By installing the system application, both systems are monitored wirelessly using your smartphone. 
Both Android and iOS smartphones are supported. This is also the method you operate from afar, even if there is no typical user interface with a keyboard and display screen to view what happens.
You can configure/disarm systems from wherever the Internet is connected. You may receive a number of alerts – like when the system is activated and who activated it – to check whether your children come home and whether a sensor has been activated. 
Then you can check what's happening in your household with the cameras.
There are several more functions in the SmartThings that are not featured on iSmartAlarm. 
For example, when the remote tag is within the frequency band, you may automatically configure and disable the system.
 If you do not want to do so, you can receive a prompt to inform you not to set the alarm, close the door, or disarm the mechanism before opening the door.
Even when the systems are not operated, you still receive notifications whenever a sensor detects a door opening and even when any movement is observed – helpful if you'd like to know when someone is slipping out or in an area of your house where they shouldn't really be.
Automating Your Home: iSmartAlarm vs SmartThings
Home automation elements are not required to be part of a safety system to ensure for it to be successful, but they may contribute to occupants' general sense of security and safety. 
For example, to create the illusion that someone is at home, you may manage your lighting, door locks, thermostat, drapes, and much more.
You may program them to turn on the lights and raise the alarm when a sensor is activated, giving the impression that you've been awakened and therefore are heading to inspect things.
SmartThings allows you to utilize IFTT.com to build up or use a variety of routines to get your system to automate activities for you, depending on the time of the day or events happening. 
Considering the gadgets you've added to the system, you're probably doing a great degree of activities.
These functionalities are not included in iSmartAlarm systems, but they have been planning to release some additional components.
SmartThings either has these gadgets or allows you to connect third-party devices and operate them via their hub using your mobile application.
Expansion: iSmartAlarm vs SmartThings
There is no limit to the number of gadgets that may be integrated into the systems as things stand now. 
The main limitation at present is the number of devices accessible and backed by both the systems, with iSmartAlarm only recognizing their specific motion sensors and remote controllers. 
SmartThings has a larger variety of its own products as well as a wide choice of third-party accessories that you may incorporate.
When comparing iSmartAlarm vs SmartThings, you should take into account all of the aforementioned criteria. 
If all you need is a smart home security system, the iSmartAlarm is a great choice. SmartThings, on the other hand, is the best choice if you want extra smart home capabilities in combination with the essential security measures.
It's all about how you plan to utilize it and what you are ready to invest in. It should also be noted that none of them is truly awful. 
They will both provide you with a wonderful experience and safeguard your smart home.
If you are searching for a home security system that will likely develop to include additional automation general capabilities, the iSmartAlarm is an excellent alternative. 
You receive the security protocols at a lower price than with SmartThings, but at a greater cost than with typical self-monitored safety systems. 
Although you will get plenty of additional features that traditional ones often don't have – you can watch what is happening at home from your smartphone if you install a camera. 
You'll get alerts when people come and return, among other things. In addition, you can get additional information about everything happening in your home and operate your equipment from a faraway.
SmartThings is a fantastic way to work with a home automation system with incorporated security system capabilities.
 It is cheaper than iSmartAlarm as well as other classic self-monitored security systems, but you'll get far more potential to regulate your home safety and automate your house regularly with more functionality.