Pool Thermometers help you know about the attributes of your swimming pool. 
For example, if it's too hot, the thermometer will detect if some heating element is corrupted and then enable you to augment expenses without any hassle.
For example, pools with temperature levels between 75F to 85F are suitable for everyone. It also requires minimal supervision as it holds chlorine much longer than a pool warmer than that. 
With pool thermometers, you can check on many other basic parameters such as chlorine and pH levels of the collection to ensure that people using them don't suffer from chemical burns or any irritation.
In this, we have brought you a few yet great selections of Best Smart Pool Thermometer 2021. 
In this particular article, we'll inform you about the best smart pool thermometer on the market, which supports both WiFi and Z-Wave. 
Furthermore, we have tested and covered various kinds of devices from floating to infrared thermometers and controlled by smartphones.
Best Smart Pool Thermometer 2021
| Editor's Rating | Model | Price |
| --- | --- | --- |
| 4.8/5 | Ambient Weather WS-20 Wireless 8-Channel Pool Thermometer | Buy On Amazon |
| 4.7/5 | Etekcity 1022 Digital Laser Infrared Thermometer | Buy On Amazon |
| 4.5/5 | eLander Floating Pool Thermometer | Buy On Amazon |
| 4.4/5 | Aquatix Pro Pool Thermometer | Buy On Amazon |
1. Ambient Weather WS-20 Wireless 8-Channel Pool Thermometer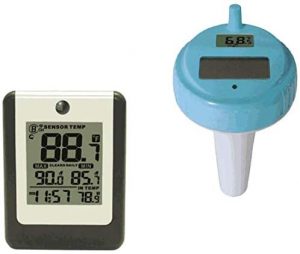 Best WiFi Smart Pool Thermometer
The Ambient Weather WS-20 Wireless 8 Pool Thermometer now comes with a portable display screen that will show details about the pool separately. 
You can place it anywhere around your house or even carry it with you wherever you go.
It is sturdy and has a waterproof design, is simple to comprehend, and is quite durable in terms of accuracy. 
Additionally, it also offers a separate thermometer and indoor display, making it the best on our list this year.
The Ambient Pool Thermometer package includes an air thermometer suitable for indoor and outdoor use, a floating water thermometer that enables wireless data transmission, and a monitoring panel.
The transmitter device floats on the pool's surface and lets you take an accurate water temperature reading. 
It is pastel blue so that it fits in the water environment. While the transmitter uses solar power to run, it also has two AA batteries for backup that are easy to install by unscrewing the lid.  
The LCD screen monitoring enables wireless communication with both the sensors and then displays that data in a series of divided cells. 
These cells have temperature readings from a single source showing large black numbers on the left and existing maximums and minimums to the right.
This display panel supports all the other Ambient Weather sensors and the third-party ones also. Such compatibility enables you to connect this device with hygrometers, thermometers, etc.
Features at a glance:
Portable LCD screen panel for monitoring the temperature remotely

Three sets of reading per screen

Supports up to eight sensors

Wireless protocol to communicate has a range of 300 feet

The refresh period for updates is 60 seconds

Battery backup with two AA batteries
2. Etekcity 1022 Digital Laser Infrared Thermometer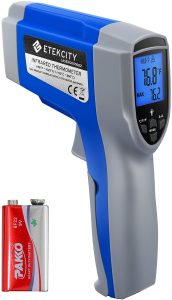 Best Laser IR Thermometer
1022 Digital Laser Infrared Thermometer by Etekcity is a portable IR pool thermometer. It lets you measure the water temperature of your pool easily and accurately. 
Not just pool water, you can use this device to check the temperature of your freezer or even for determining water heating levels while you cook.
Its multiple application in daily routine under an affordable price range makes it one of the most valuable thermometers on our list. 
The Etekcity thermometer has a design like a glue gun or portable drilling equipment, making it very convenient to use.
This device also includes a 9V battery which is durable for a significant period. The grip of the thermometer is quite slender, which is comfortable to hold. 
The thermometer is handy and well-balanced so that you can measure the temperatures by going around without breaking a sweat.  
The Etekcity digital thermometer emits an infrared beam to measure the temperature once you point it towards the desired spot. You can even turn on the guiding lasers to mark the area you want to measure.
The best feature of this thermometer is that it gives accurate measurements no matter what inert object you are scanning due to its adjustable expansivity.
Features at Glance:
Temperatures range from -58 to 1022 degrees Fahrenheit

Large LCD screen for better visibility and easy reading

Margin error of 2 degrees

Huge numbers and a blue backlight for use in low light

On Screen power indicator for low battery alert
3. eLander Pro Large Floating Pool Thermometer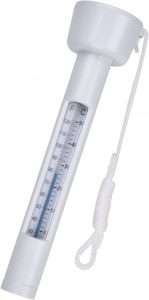 Best Floating Pool Thermometer
Yet another great thermometer for maintaining the temperature of your pool. eLander Pro Pool thermometer is built with premium quality components and offers great features that make it one of the top pool thermometers of 2021. 
This smart pool thermometer is 7.3 inches in size and can measure temperature in aquariums, pools, and spas.  
Thermometers are supposed to have clear legible readings, and the eLander thermometer perfectly checks the box as it features a substantially large display screen.
The large screen lets you read the pool temperature in just a few seconds. In addition, the durable and strong design of the eLander thermometer makes it a shatter-resistant and long-lasting device.
Also, it can be stored conveniently assisted by a simple loop in the string attached with it. 
This string is quite lengthy, which helps to use and carry the product easily. Then, you need to dip it in the water pool using the string and check the readings.
Features at Glance:
Temperature measurement pool and spa water

Clear temperature reading with a large display in both Celsius and Fahrenheit

Sturdy design and shatter-resistant

Suitable for Indoor and Outdoor Spa, Hot tubs, Pool
4. Aquatix Pro Large Floating Pool Thermometer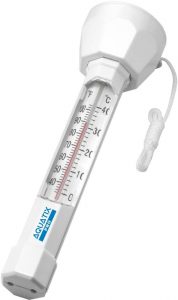 Best Budget Pool Thermometer
After rigorous testing and multiple experiments, we pinned this one as the best under-budget smart pool thermometer on our list. 
Aquatix Pro Floating Pool is a capable device that lets you read a temperature maximum of 120 Fahrenheit with a large and clear display. 
It has an analog design, so it does take a few minutes to record accurate readings after you dip it in your pool.
eLander thermometer will float in the water, but still, you need to fill up the reservoir to keep it horizontal inside the water. 
The good part is that it is very easy to clean. eLander offers a one-year manufacture warranty and is made shatter-resistant. In addition, this thermometer is very durable and accurate, up to four to eight degrees.
The string fixed on the thermometer is about 4 feet long, ensuring that the thermometer is easy and convenient to use. 
In addition, this string is a significantly durable and string device that ensures that the thermometer never floats away and accidentally collides with other pool components.
Features at Glance:
Provides accurate reading in both Celsius and Fahrenheit

Maximum Temperature 120F and 50C

Sturdy design and shatter-resistant

It reads about 100 Fahrenheit and 40 Celsius

Suitable Hot Tubs, Pool, Spa, Aquariums, Fish Ponds, and all other systems

Large display for clear readings
What is our research strategy?
When testing and experimenting with several thermometers on the market, we build certain criteria for our research to make specific selections. 
We recommend our readers consider these factors while making any buying decision. We have placed them as follows:
Consistency and Accuracy
The entire purpose of a pool thermometer is to read accurate temperature levels. Accuracy is key here; without that, it would just be a waste of money. 
Unfortunately, there are some minor variations in thermometers since accuracy needs calibration complex in nature.
So, we not only focus on accuracy but also consistency. If you are aware that the thermometer reads at five degrees consistently, you'll get a true temperature. 
But every time you get a reading, the accuracy varies that might not be useful for you.
Ease of Use
A thermometer, in general, shouldn't be complex to use. It should involve as minimal effort as it can. 
If a thermometer requires you to continually adjust it, move it, clean it, or other taxing tasks other than simply reading the temperatures, it isn't very convenient.  
You should ideally look for those that float smoothly (if it's floatable). If they are digitized, make sure that they don't have complicated instructions and irrelevant features. 
Also, make sure that the display is clear enough to be read without using any flashlight every time you take it in the pool.
Durability
Pool Water thermometers should last long for several seasons. While many pool equipments have a short running span, thermometers go on for years. 
With their simple design, they can survive through heat and other climatic environments associated with the pool.   
Make sure the thermometer you pick doesn't break down easily and maintains its durability for coming seasons. 
While we recorded that some of them shed color over time, they were still sturdy and durable. The only thing that matters is it remains accurate.
Power Source
Power source doesn't ring as a huge concern, but it might change your opinion once you start using a thermometer. 
Whether to choose an analog thermometer or a digital one is an important aspect.
Analog thermometers will need minimal maintenance efforts as they don't have a power source. So you can sip it in the pool and forget about it.  
On the other hand, Digital thermometers need more work. They generally come with batteries or solar power sources. You might change the battery or charge them to keep running, requiring extra effort.  
Batteries have to be changed as they exhaust. This is usually done by some tool, and in some thermometers, you may not get alerts about the battery running low.  
Solar power source requires exposure to the sun to keep the device running. 
Therefore, we recommend finding a thermometer that runs on the least sunlight or contains storage to get a reading even when it is cloudy.