Philips is, without a doubt, one of America's largest, most dependable, and long-lasting electronic product makers.
As a result, Philips is often the prime choice for lights, bulbs, and many other products since it offers you the best and long-lasting equipment that will perform for numerous years without creating any problems.
Philips has just entered the field of smart goods and lighting technologies and, quite frankly, has transformed the way things are done. 
Especially in comparison to just about any other equivalent product available in the marketplace, their lighting systems are significantly more sturdy, effective, and affordable.
Philips offers a wide range of alternatives according to your preferences and requirements, including selections based on price and functionalities.
Philips Hue takes advantage of the Zigbee wireless protocol, which has also been available for a long as a way to link low-power devices. 
Zigbee gadgets have their own hub and operate on a separate wavelength than Wi-Fi. This hub is linked to a Wi-Fi router, which would be linked to your smartphone.
Remote networking is also possible thanks to the connection to the internet. Therefore lights may switch off automatically when you leave home. 
In addition, hue has incorporated Bluetooth connectivity to its lights since its introduction.
Thus the hub is no longer required. However, the Bluetooth coverage is essentially restricted to inside the same room as you, and it might spare you some time compared to using Wi-Fi to access the smart hub.
WiZ does not use Zigbee at all. WiZ smart lights, on the other hand, automatically connect to the router through Wi-Fi. 
They create their particular Wi-Fi hotspot throughout installation, which you link to if only to transmit the credentials for your personal Wi-Fi connection.
That's one less problem to tackle than with Philips Hue, which makes installation and upgrading a little quicker. WiZ's smartphone application differs from Hue's in that it has more features in certain categories and less in others.
If you're unsure about the distinctions between Philips Wiz vs Hue, below is a quick overview.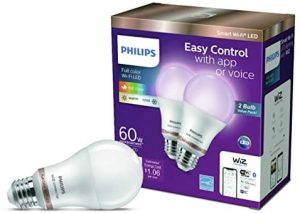 The Philips Wiz smart LED bulb is the company's first edition. 
They are amongst the most cost-effective options available, but being able to get your hands on these may be difficult because Philips no longer manufactures these lightbulbs and has moved on to more complex technology and comprehensive functionalities.
Wiz bulbs are advertised as a separate branch. Therefore they come with their very own remote controller in addition to having the Philips Wiz mobile application, which gives you total control over all of these lighting.
Although the Wiz lightbulb offers minimal illumination functions, they are completely interoperable with Google Assistant, Siri, as well as Alexa, allowing you to have a flawless and simple voice control interface.
Furthermore, these light bulbs provide adequate lighting as well as, if properly maintained, can survive for many seasons. 
However, this is the model for you if you're on a tight budget and wish to have some essential features like remote control, scheduling, sensor systems, and more.
Philips Wiz is an excellent option. The main drawback with these lightbulbs is that they may have a tiny lag in executing the orders you're attempting to transmit, and some of the hues aren't particularly brilliant.
Apart from that, they are the ideal way to illuminate your house, business, or any other location.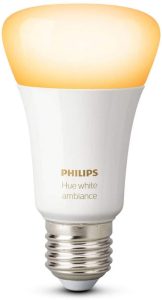 Philips Hue is the most recent version, and by utilizing the most advanced current technologies, it has a substantial advantage over the Wiz family lighting systems.
Following the enormous success of Wiz light bulbs, Philips has raised their efforts and employed cutting-edge technology in its lighting systems.
Hardly anything good has ever come cheap. Therefore you may have to spend a somewhat higher cost to get the Philips Hue range, but it will all be definitely worth it, and then you will experience the benefits with these lights.
Because the technology on all these lightbulbs has been improved, any issues you had with the Wiz series, such as dull colors on certain hues or task delays, have been resolved, so you'll never be interrupted while using them.
These lights' brightness can also be regulated; however, with the correct intensity settings, you can adjust the brightness in your space to match your tone and create the exact atmosphere you've always desired.
These light bulbs also support IFFFT, which gives you significantly more customization and configuration options. 
Another feature you'll appreciate about this fantastic collection is that it includes not just old-fashioned lightbulbs.
These other lighting options will offer you to arrange the space suited to your whole preferences and make the most of it.
In conclusion, they may appear to be a bit pricey, but they'll be well worth the investment you put on them.
Additional Features: Philips Wiz Vs Hue
Degree of functionality
Philips Hue and WiZ work in the same way in terms of functionality. Both are compatible with standard E12, E26, and GU10 plugs. Hue offers a couple of extra lightbulb options in terms of completed lighting.
Brands have a wide range of hues and intensities. Establishing schedules, organizing rooms, and creating color palettes are all in order. Google Assistant, Alexa, as well as Siri may all be used to access the devices.
Hue has a bit more third-party compatibility, with applications like Hue Pro extending the Philips application's animation features.
The original WiZ application, on the other hand, provides a number of important features, such as energy usage monitoring and the ability to specify transitional interval durations. 
In addition, the WiZ application has a few of Hue Pro's animation capabilities integrated within.
Hue has an advantage over WiZ because of Spotify music sync as well as a significant profile in TV backlighting.
However, these are more complex capabilities that are not really generally a strong selling pitch for all. WiZ comes equipped with a large feature set targeting low-key consumers that would also suit their needs on a daily basis.
Long term support
The actual concern is long-term upkeep, which would be critical for a device that will be a staple in your house for many seasons.
The last thing you would want to do is invest time and money into establishing smart lights only to have the application (most of the lighting's functionality) stop working after only a few years. 
Several smart home firms have demonstrated that they'll never allow this to occur.
A dependable brand may appear to have a good chance of keeping smart lighting operational for the long term, perhaps by courtesy of existing in business for years enough.
Still, it also might force you into unnecessary updates. In order to encourage users to upgrade to the V2 hub, Hue has indeed disabled voice commands and software updates for just about any bulbs linked to its first-generation hub.
You may argue that these changes are technically necessary, but for those of us who have invested in LED for the purpose of the environment, knowing that one of the hubs will be discarded every couple of years isn't ideal.
Hue smart bulbs on the 9-year-old first-generation hub, for whatever that's worth, certainly give plenty of usefulness, though not the whole functionality package.
WiZ, on the other hand, has the advantage of having one fewer point of failure when it concerns servicing and lifespan because it is hubless. 
But, as a smaller company, its capacity to stay in business simply to keep the application running is limited. These two things, one may say, neutralize out each other.
Price range
The difference in price among both Philips Hue and WiZ is significant, and it is most probably the key determinant between these two product lines.
Although WiZ light bulbs are less expensive, supply may be difficult to come by. Color light bulbs are now inaccessible on Amazon, and the bulged reflector variants are only available in four-packs at Costco. 
To complete your lighting system, you'll probably need to acquire some WiZ smart light bulbs from Home Depot.
The lower supply suggests that Signify is transitioning away from WiZ in favor of Hue, although a completely new supply of WiZ lightbulb was just revealed. 
Both ranges are expected to continue for some time to provide appropriate application software.
Comparing the WiZ Mobile Application to the Philips Hue Mobile Application
The WiZ application and the Philips Hue application are two entirely different apps. There are a few factors to take into account.
The Wiz app supports Alexa, Google Assistant, and a couple of other services. Apple's HomeKit is, although not available which is a smart home automation system.
With Apple's Shortcuts application, you could still use Siri Shortcuts to manage these lights. In addition, applications may be managed in specific ways using bespoke Siri commands thanks to the Shortcuts application. 
Of course, you can't achieve everything with HomeKit, but it gets the job done.
One of the best parts about Hue is the platform it's based on, rather than the bulbs or color-shifting possibilities. 
The Hue ecosystem's advantage is its industry-leading, ideal platform that integrates with just about everything, such as HomeKit, and is jam-packed with valuable features.
Despite the fact that WiZ was recently bought, the app has yet to be renamed. This prompts the conclusion that Philips is aware of the application's flaws and does not want it linked to its brand. 
The issues will be resolved over the next edition of WiZ lights, after which everything will be redesigned.
So, what exactly are the issues I'm referring to? Several customers appear to be having difficulty putting up these lights at first. 
The issues appear to be related to connecting your smartphone to the lightbulb through Wi-Fi. The software just isn't able to locate the light bulb. In addition, users who contacted support appear to be dissatisfied with their assistance.
One technique is to navigate the device's Wi-Fi settings and directly select the lightbulb before starting the setup procedure. Alternatively, you might change the Wi-Fi band.
Philips Hue Vs. Wiz: Which Is Best?
If you're new to the smart light bulb marketplace or wish to attach your light bulbs over Wi-Fi, WiZ is the best option available.
Philips Hue is indeed the best overall choice since it offers the most gadget possibilities, is linked with industry-leading home automation systems through the Hue Application, and therefore can interconnect many gadgets without affecting the Wi-Fi connection.
The final line is that it all boils down to money. Hue is better at a few things, while WiZ is better at a few others. 
Hue's additional features, such as TV and music sync, might tilt the scales in its favor.
However, the technical differences are insignificant in comparison to the significant price gap. With WiZ, you could need a few dollars without missing out on enough.