There are a lot of things to consider while deciding between Homeseer vs Vera. 
That is why, in order to assist you, we will compare each aspect of these smart hubs. We evaluate the major features, specifications, and advantages and disadvantages of both units to see which one might provide you with the greatest value and most appropriate combination of functions for your smart home.
Commercial hubs are available at three tiers on HomeSeer, with prices ranging from the low hundreds to the pricey end of thousand of dollars. 
When compared to the Vera Plus, the level of complexity necessary to operate the HomeSeer hub is considerably higher.
The Vera Plus interface is extremely unstable and sluggish when compared to the HomeSeer hub. 
The code is shoddy and poorly explained, which might have a detrimental influence on the user experience.
| Specifications | Homeseer | Veralite |
| --- | --- | --- |
| Dimensions of product | 4.5" x 2.25" x 4.25" | 4.6" X 1.7" X 3.7" |
| Color options | Black | Green |
| Operating system | iOS, Android | iOS, Android, Windows Phone |
| Storage provided | 32 MB flash RAM; 64 MB DDR2 storage | 2 GB, 32 GB SSD storage |
| CPU | 1.58 GHz Dual-Core with 1 MB Cache | 500MHz MIPS |
| WiFi connectivity | 802.11 b/g/n @ 2.4GHz, 5GHz. Z-Wave | Z-Wave |
| Overall ratings | 4.5 | 4.2 |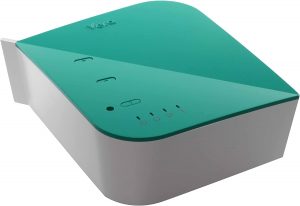 Vera is compatible with Wi-Fi, Bluetooth, ZigBee, and Z-Wave.
Unlike other hubs, such as the HomeSeer hub, there are no subscription costs to use the Vera smart hub to its maximum capability.
It also works with gadgets from well-known brand products like Samsung, Honeywell, Nest, Philips, and others, allowing you to customize products for a fantastic home automation experience.
The Vera Plus can connect to up to 1500 Z-Wave compatible devices, allowing you to connect your camera systems, lights, movement sensors, alarms, and more to create a completely automated and smart home. 
Things we like
The VeraLite app also has a more contemporary appearance and is easy to set up. Establish a room, set a device in that area, set certain criteria for it, and you're ready to go – all from an internet browser or an iOS app.

It does offer the benefit of allowing the mains or batteries to run for a short period of time, which might be useful if your home has regular power failures. One advantage is that you can stand in front of any home automation gadget you're configuring and click the relevant buttons without having to hurry to and from it.
Regular firmware updates keep the VeraLite up to current with the newest Z-Wave devices, though not as quickly as some users would prefer.
Things we didn't like
Although some customers report having trouble setting up generic or non-common cameras with the VeraLite, the robust user community usually has a workaround.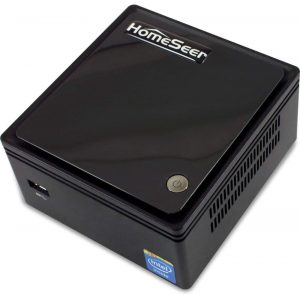 HomeSeer presently has 5 versions on the market, the least amount of which is the HomeTroller Zee S2.
HomeSeer is a great smart home automation hub choice. The brand is specialized in the United States, has an entire ecosystem of gadgets, and offers excellent customer service, which sets it apart from most other hubs. 
On the other hand, it is the most costly choice of all the hubs we examined, even if it has the cheapest model.
In terms of complexity and price, the majority of their gadgets are aimed at the high-end of the particular industry. 
It is not a consumer-focused device when compared to other competitors such as SmartThings, Vera, and Hubitat because it takes some technical knowledge to set up.
Things we like
The HomeSeer will attract the more technically oriented smart consumer who desires ultimate control over every gadget and setting.  Depending on the weather or sensor fluctuations, the Homeseer may link activities and alter devices.

Because the data is stored locally on the SSD, you don't require continual cloud or web connectivity to keep your home automation working, which might be a problem with alternative solutions in the event of a power loss. With such a fast CPU, it is also quick to respond, with a short startup time.
Things we didn't like
The only concern is the pricing; for that amount, you wouldn't even receive a Z-Wave controller, which is a necessary addition. Even yet, this is more than double the Veralite's suggested price, and you can probably get that device for a lot less. Despite this, the Homeseer appears to retain its value, which indicates the sort of user it is intended for.
Features and functionality
Both Homeseer and Vera are excellent hubs for your smart home when it comes to advanced features. 
Both of these devices will offer you ultimate control over your whole home automation system. You'll also be able to fully personalize your home automation items to meet your particular requirements.
Homeseer outperforms Vera in a few instances, such as when Vera runs out of memory, except in a few incidences. 
There isn't much of a distinction between the two smart hubs when it comes to general home automation functionality and administration.
When it comes to cost, Homeseer is a little more pricey than the other hub. However, while comparing Homeseer to Vera, take into consideration that customers can perform more with Homeseer.
Vera, on the other hand, is available in two different versions. However, both the basic and premium models are less pricey than Homeseer. 
As a result, Vera outperforms Homeseer in terms of price by a wide margin. Although it lacks some of the functionality included in Homeseer, it is still capable of performing routine automation and intelligent activities.
The setup procedure is straightforward; simply read the instructions in the QuickStart Manual that is included with the device. 
You should first integrate it to your router utilizing the provided RJ45 Ethernet wire, and then turn it on.
You'll be taken to the Dashboard after completing your registration, in which you can finish your configuration. 
You may integrate devices into your network using an installation process on the dashboard.
The HomeSeer controllers come in a variety of types and versions, each with varying degrees of device and service compatibility. 
There are models that support an infinite number of devices and ones which only support 5 drivers. While the drivers are available for free download, they are available in both premium and free versions.
Vera hubs come with fully functional smartphone apps, and the Vera is no exception. 
Even though you're not at home, you can use the application to regulate and manage your smart home automation.
You may effectively manage your automation devices and programme from your mobile phone with the HSTouch application, which is available for Android and iOS as well. 
It's conceivable that you're not very comfortable with technology, in which case the HomeSeer programme may not be appropriate for you because it's more complex than other applications.
So, if you're not sure what terminology like software, ports, plugins, and so on mean, this is a good place to start.
Interestingly, users like Homeseer, with nearly all of them recommending it to friends. 
Vera, on the contrary, elicited mixed responses from consumers. Some of them loved using the gadget, while others were a little dissatisfied. 
However, customers valued Vera's service and functionality above its price.
Conclusion: Homeseer vs Vera
When it comes to Homeseer vs Vera, both will provide you with a fantastic experience. 
If you're searching for an entry-level option, we simply recommend Vera. It will be far less expensive while still providing you with the essential features. 
Homeseer, on the other hand, will charge you more but will provide you with a lot more complex capabilities.
Finally, it is up to you to make a choice. Choose anything that meets your requirements as well as your financial constraints. 
If you don't mind paying more, Homeseer is the way to go. Vera, on the other hand, is a solid choice.